Norfolk farmers markets showcase the best of the county's fabulous local produce and support Norfolk's farmers and producers too. Whether you are visiting or live locally, a farmers market is a great opportunity to see the best of what Norfolk has to offer for your tastebuds and table.
I share the best Norfolk farmers markets in this guide, where you can see, smell, sample and shop fresh and locally grown seasonal produce which offers an authentic Norfolk farm-to-fork experience.
RELATED POST: The Ultimate Local's Guide to Norfolk England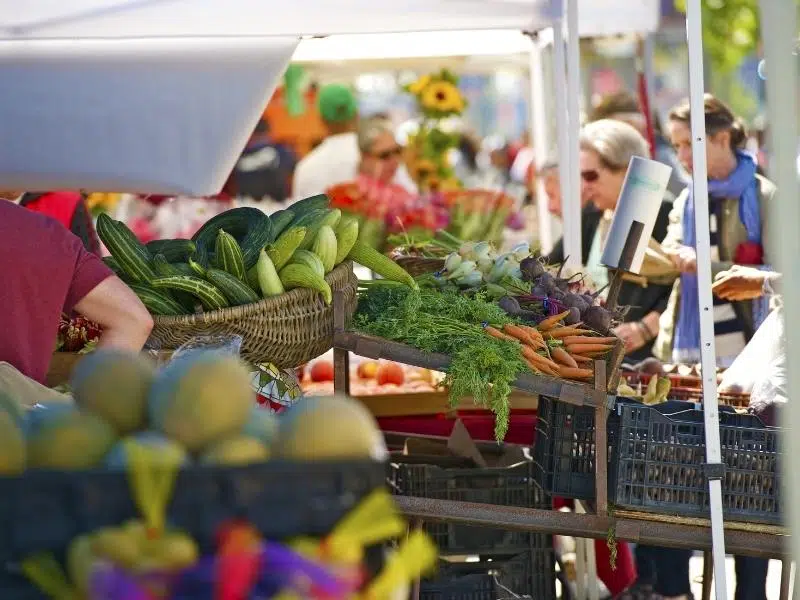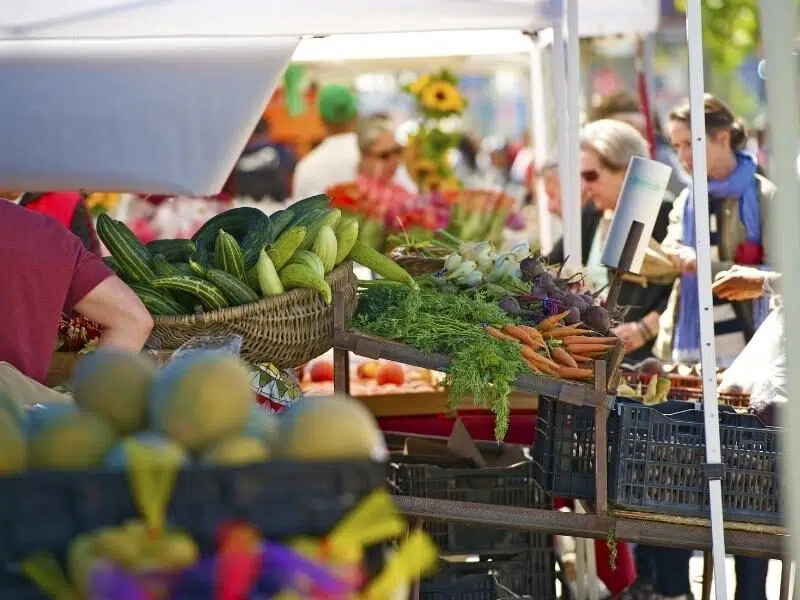 What is a Farmers Market?
Food sold at farmers' markets must be farmed or produced from the local area and should only be sold by the person (or people) who made or produced the food.
Preserves and baked goods such as bread, cakes, pies and pastries should be home-made using locally sourced ingredients and produced according to The Food Safety Act 1990.
Norfolk Farmers Markets in 2023
Sadly the county lost a few farmer's markets over the Covid years. Dereham, Neatishead, Poringland and Fakenham farmers markets and the Norwich farmers market at Costessey have all stopped running.
The National Association of Farmers' Markets (NAFM) which ran a certification scheme to certify genuine farmers' markets has also ceased operation. A new scheme has been set up by the Farm Retail Association (FARMA) to independently inspect farmers' markets.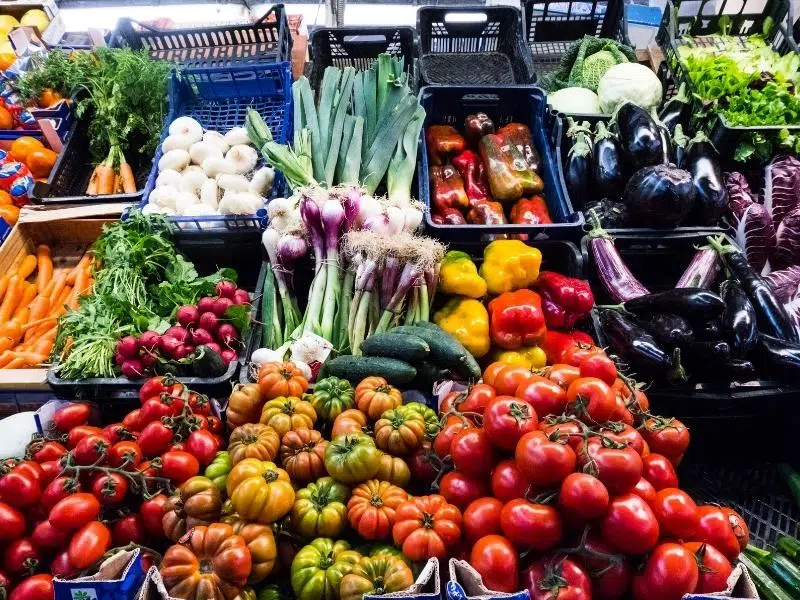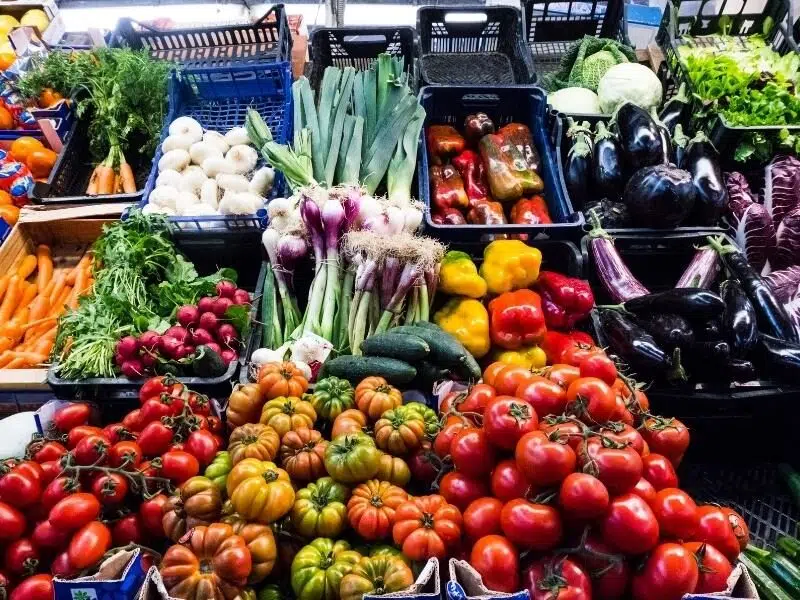 Acle Farmers Market
Where: St Edmunds Parish Church, Acle NR13 3BU
When: Second Saturday of each month from 9am to 12.30pm
Acle market takes place in the church hall, and 100% of the profits go directly to church funds. Depending on the time of year you will find a variety of stalls from the usual locally produced fruit & veg, meat, fish and freshly baked bread, to the more unusual, selling delicious locally brewed beer. There are also a handful of craft stores, selling jewellery, candles and soaps.
RELATED POST: 26 Exciting Things To Do On the Norfolk Broads
Aldborough Village Farmers Market
Where: Aldborough Community Centre, The Green, Aldborough NR11 7AA
When: First Sunday of every month from 9.30am to 12 noon
With producers of fine local food, drink, cheese, fish and cakes offering their wares, this is a great market to sample Norfolk's best. When you're finished shopping, visit the pop-up cafe for a coffee and delicious homemade cake.
Aylsham Country Market
Where: Aylsham Town Hall, Market Place, Aylsham NR11 6EL
When: Every Friday from 8.30am to 12 noon
The WI Aylsham farmers market has a long history – it's been going for a whopping 40 years and is part of the country market network.
With more than 30 members who produce and sell their goods, you'll find a wide variety of stalls selling local produce and artisan crafts in this Cittaslow town, which aims to promote the principles of the slow food movement, the foundations of which are local food, traditions and suppliers.
RELATED POST: Aylsham: A Historic Market Town in Norfolk
Beccles Farmers Market
Where: Old Heliport, Ellough, Beccles NR34 7XF
When: First and third Saturday every month from 9am to 1pm
The Beccles farmers market has been going strong for over 20 years and with 30 stalls of amazing fresh produce and is one of the biggest undercover farmers markets in the UK.
Check the news and latest updates on their website to see which new produce and crafts will be appearing each month.
Black Barn Farmers Market
Where: Norwich Road, Salhouse NR13 6QG
When: Second Saturday every month from 11am to 2pm
The Black Barn farmers market has a wide and varied selection of local produce, with the homemade cakes taking my top spot! Held in the barn at Black Barn Farm, this market includes local bakers, cocktail makers, brewers and marmalade makers amongst the eclectic mix of local producers.
They also offer seasonal events like pumpkin picking and Christmas wreath making, and even have a campsite so you can make the most of your visit!
Creake Abbey Farmers Market
Where: Creake Abbey, North Creake, Fakenham NR21 9LF
When: First Saturday of every month (except January) from 9.30am to 1pm
The Creake Abbey farmers market is held in two Norfolk barns, has over 50 stalls, and is one of the bigger markets in the county. With a great atmosphere and live cooking demonstrations, this North Creake farmers market is well worth a visit.
There is lots of wonderful produce including meat, fresh vegetables, seasonal fruit and flowers, local cheese, sweet pastries, pies, artisan bread, preserves, local ales and Norfolk wines.
RELATED POST: North Norfolk Coast – 19 Unmissable Highlights
Docking Weekly Farmers Market
Where: Docking Village Hall, High Street, Docking PE31 8NG
When: Every Wednesday from 9am-1pm
The produce and flowers on offer at the Docking farmers market are all locally grown throughout Norfolk and bordering counties. Inside the hall are craft stalls selling items such as bread, toiletries and greetings cards, all locally made.
RELATED POST: Christmas in Norfolk 2022 – 40+ Dates for Your Diary
Holt Sunday Market
Where: Market Place, Holt NR25 6BW
When: Every Sunday from April to December from 10am to 3pm
The idea of this food and producers market was born during the pandemic and started trading in the summer of 2020. The market was praised for its authenticity and quality, and visitor numbers steadily increased until it was decided that a more significant Sunday market should be formed.
The Holt Sunday market is now held, fittingly, on the Market Place, where regional makers, pop-up food stalls, local producers, food vendors and local buskers ply their wares and trade, and many of Holt's independent shops are open, making this one of the best Sunday markets in Norfolk.
RELATED POST: 22 Perfect Things To Do in Holt Norfolk
Hoveton Farmers & Producers Market
Where: Hoveton Village Hall, Stalham Road, Hoveton NR12 8DU
When: 3rd Saturday of every month from 9.30am to 12.30pm
The Hoveton farmers market has lots of stalls selling fresh produce and homemade crafts and gifts, as well as a food van selling yummy bacon rolls!
RELATED POST: 22 Fantastic Things to Do in Wroxham
King's Lynn Merchants Market
Where: Saturday Market Place, King's Lynn PE30 5DQ
When: 2nd Saturday of every month from 9am to 1pm
What was the King's Lynn farmers market is now the King's Lynn merchants market, which hosts some of the county's best stallholders. From freshly made bread, doughnuts and global cuisine to locally produced beverages and spirits, King's Lynn's merchant's market has a little something for everyone.
As part of the market's rebrand, the event now welcomes local food and drink traders and craft traders too. Think handmade homeware and upcycled goods. Outdoor seating will be provided so visitors can enjoy their market goodies there and then, whilst taking in the sights of King's Lynn's beautiful historic quarter.
RELATED POST: All the Best Things To Do in King's Lynn Norfolk
Letheringsett Water Mill Farmers Market
Where: Riverside Road, Letheringsett, Holt NR25 7YD
When: 3rd Saturday of every month from 9am to 1pm
The Letheringsett Watermill farmers market used to be called the Bayfield farmers market, but after the location became unavailable it was moved to the Letheringsett Watermill, hence the name change. The market's focus is on local and artisan produce and products across 30-plus stalls.
Loddon Farmers Market
Where: Jubilee Hall, George Lane, Loddon NR14 6NB
When: Second and fourth Saturday every month from 9.30am to 1pm
The Loddon farmers market is known for encouraging sustainable methods of food production. They support traditional animal breeds and heritage fruit and vegetable varieties.
All producers come from East Anglia and all produce being sold must have been grown, reared, caught, brewed, pickled, baked, or processed in East Anglia. Either the producer or someone directly involved with production must be selling the products so you can ask how the food is produced and grown.
Norfolk Farmers Market
Where: In small villages across Norfolk
When: Check dates and locations here
Not your usual run of the mill farmers market, Norfolk Farmers Market is a new company, committed to bringing farmers markets to Norfolk's 'forgotten' villages. They bring all the staples of a farmers market to a venue along with crafters, food suppliers, hot food …in fact a little bit of everything!
North Lopham Farmers Market
Where: Lophams' Village Hall, North Lopham IP22 2LP
When: Fourth Saturday of every month from 9am to 12.30pm
The award-winning North Lopham farmers market has been running for eight years and hosts a huge variety of local producers with refreshments in the adjoining pop-up tea room.
North Walsham Sunday Farmers Market
Where: Market Place, North Walsham NR28 9BP
When: Last Sunday of every month from 10am to 2pm
The North Walsham farmers market focuses on food and gifts, with much of the produce being Norfolk made, and about a quarter is made and produced within the town itself.
RELATED POST: Towns in Norfolk – 27 Towns to Visit in Norfolk
North Wootton Village Market
Where: North Wootton Village Hall, 46 Priory Lane, North Wootton PE30 3PT
When: Third Saturday of every month from 9am to 2pm
The North Wootton Village Market is a great spot to find fresh produce from local suppliers alongside hand-crafted products, as well as being able to meet the producers and makers behind them.
Between 15 and 20 stallholders showcase an excellent range of high quality, local, Norfolk produce and delicacies. You'll find fresh bread, seasonal vegetables, fresh meats, delicious pre-prepared meals from, fine Indian cuisine, Norfolk apple juice, locally made greetings cards, jams, pickles, and preserves, homemade cakes and tasty treats and flowers and plants. Tea and coffee and bacon rolls are also available!
Reepham Country Market
Where: The Bircham Centre, Reepham NR10 4JJ
When: Every Wednesday from 8am to 11am
The small Women's Institute Reepham country market sells homegrown and hand-crafted goods, such as pies, jams, marmalade, cakes, fruits and vegetables.
Spixworth Farmers Market & Crafts
Where: Spixworth Village Hall, Crostwick Lane, Spixworth NR10 3NQ
When: Fourth Saturday of every month from 9.30am to 12.30pm
Spixworth farmers market has stands selling fresh local produce including meat, fruit, vegetables, eggs, bread, cakes & local handicrafts.
Worstead Estate Farmers Market
Where: Church Farm, Smallburgh NR12 9NB
When: 26 August, 30 September, 28 October and 25 November 2023
Worstead Estate farmers market showcases the very finest in fresh local produce, supporting local businesses and providing a wholesome day out for locals and visitors alike.
The market is held in a striking Norfolk brick grain store, and a group of stallholders attend regularly, with additional guest stalls bringing a mix of new produce.
Wymondham Farmers Market
Where: Market Cross, Wymondham NR18 0AX
Where: Third Saturday of every month from 9am to 1pm
Wymondham was the first Norfolk town to introduce a market of this style, more than sixteen years ago. You will find only locally grown produce at the Wymondham farmers market, where producers are happy to tell you about their farming practice and how their products get to market.
RELATED POST: Wymondham: A Window to Norfolk's Past
Map of Farmers Markets in Norfolk
How to use this map – Use your fingers (or computer mouse) to zoom in and out. Click or touch the icons to get more info about a place, and click the arrow in the box top left to open the index. To add to your own Google Maps account, click the star next to the title of the map.
Have I missed a farmers market in Norfolk from my list? Let me know in the comments so I can check it out and add to my round-up of Norfolk farmers markets.
Love it? Pin it!