In an area of outstanding natural beauty on Norfolk's east coast, Horsey beach is a wild and unspoiled stretch of sand. Known for the large dune system backing the beach and the thousands of seals who give birth here every winter, Horsey beach is a wonderful place to visit year round.
Horsey is where the sea meets the Broads, and the area is rich with local wildlife and birdlife. Whenever you visit, you'll spot seals, whether they're basking in the sun, popping up in the sea to have a nose as you walk along the beach, or hauling out in winter for the breeding season, Horsey is prime Norfolk seal watching territory!
My local's guide to Horsey beach has all the information you need to make the most of your Horsey holidays, and enjoy this special place in Norfolk.
RELATED POST: The Ultimate Local's Guide to Norfolk England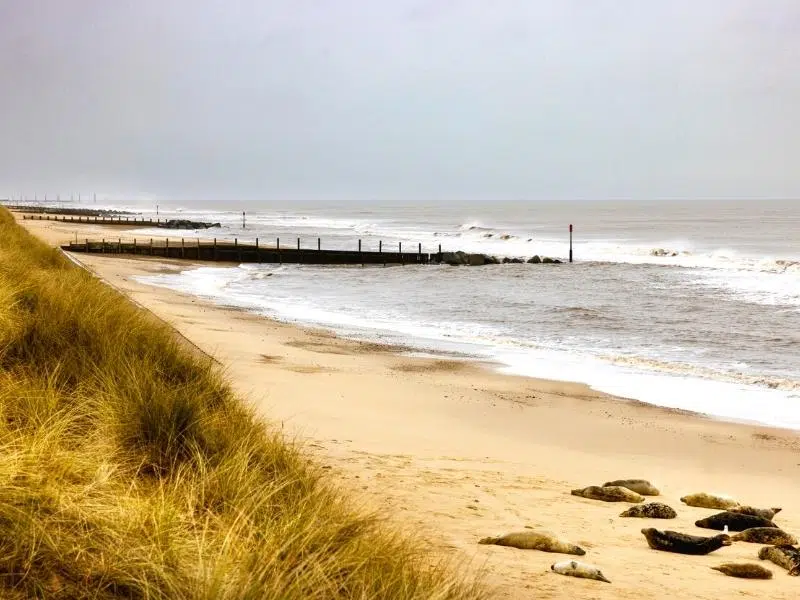 This post may contain affiliate links. If you book something I recommend, I make a small commission without affecting the price you pay!
Where is Horsey Beach?
Sandwiched between the beaches of Winterton and Waxham, and the Norfolk Broads, Horsey beach is 23 miles north east of Norwich, and 13 miles north of Great Yarmouth, in an area of outstanding natural beauty.
Horsey beach lies a mile north east of the small Broadland village of Horsey, where there is a church and the Neslon Head pub. The beach is backed by the Winterton-Horsey Dunes Site of Scientific Special Interest, and a network of small canals and dykes.
RELATED POST: North Norfolk Coast – 19 Unmissable Highlights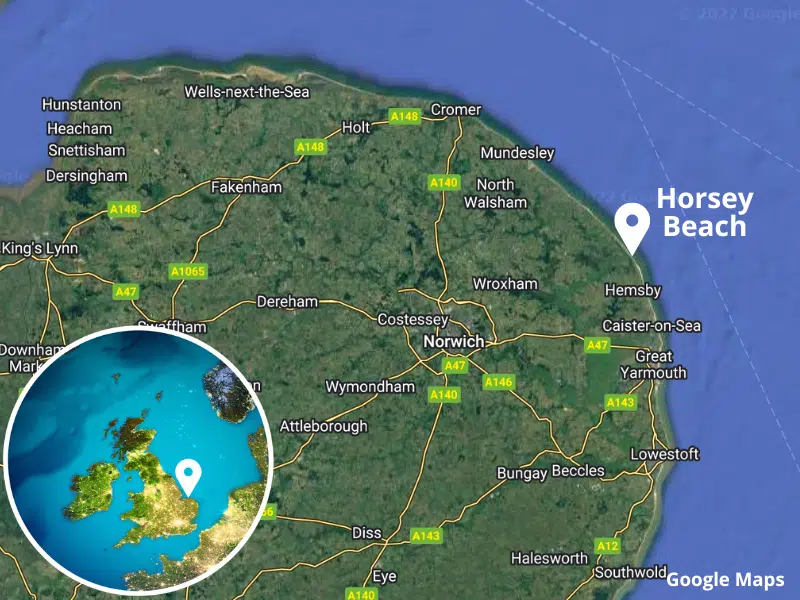 Getting to Horsey Beach
Driving to Horsey Norfolk
If you're travelling from the north of the United Kingdom, pick up the A17 south at Newark-on-Trent and follow the route around the Wash to King's Lynn. This road is mainly single carriageway, and slow moving agricultural traffic and trucks can cause delays, so build this in to your travel plans.
From King's Lynn pick up the A47 to Norwich and then Acle. If you're travelling from the Midlands, you'll come into Norfolk via Peterborough and pick up the A47 east. From the south, the A11 brings you through Cambridge directly to Norwich, and then the A47 takes you to Acle.
At Acle, you'll cross country through the Norfolk Broads, passing along narrow country lanes bordered by hedgerows and fields to Horsey, using the Horsey beach postcode of NR29 4EQ.
RELATED POST: 31 Amazing Things To Do in Norwich
Getting to Horsey by Public Transport
The county of Norfolk is within easy reach of the rest of the UK, with great transport links. You can get to Norwich by main line train from London in less than two hours. Simply take the regular Greater Anglia service from London Liverpool Street, which leaves every hour or so.
Alternatively, you can take a National Express coach from Victoria Coach Station. This takes around four hours depending on the time of day, but is often much cheaper than the train, especially when booked in advance.
Horsey beach itself is not accessible by public transport. The nearest bus route, the Coastal Clipper 1 bus, leaves Great Yarmouth every 30 minutes and takes around 40 minutes to arrive at the Winmer Avenue stop in Winterton on Sea. From here it's a three miles walk through Winterton village and beach to Horsey Gap.
RELATED POST: 13 Exciting Things To Do in Great Yarmouth
Horsey Beach Parking
Horsey Gap pay and display car park (use postcode NR29 4EQ) is the closest parking to the beach, right where Horsey Gap creates an entrance to the sands. If you're visiting the seals, there is a ten minute walk when you arrive at the beach to reach the viewing areas. There are no public toilets here.
Horsey Estate owns and operates the car park at Horsey Gap and sets parking charges, which are £3.50 for uo to two hours, £5 for up to 4 hours and £7 for the day (2023). There are pay and display machines in the car park which accept cards and cash.
Horsey Gap doesn't allow campervans, motorhomes, coaches or minibuses.
The Horsey Windpump car park is owned by the National Trust, and parking there makes for a wonderful 3.8 mile circular walk to the beach if you're up for a stroll. The car park is free for NT members, and costs £3 for two hours, £4 for four hours and £6 all day.
The Nelson Head car park in the village is the other alternative, with a one mile walk to the beach. If you do park here, do the decent thing and have a drink or lunch in the pub!
There are no facilities at Horsey beach itself, but just a few minutes walk from the car park is Poppylands Tearoom on Waxham Road, where you can get hot and cold drinks and snacks.
RELATED POST: 13 of the Best Norfolk Broads Walks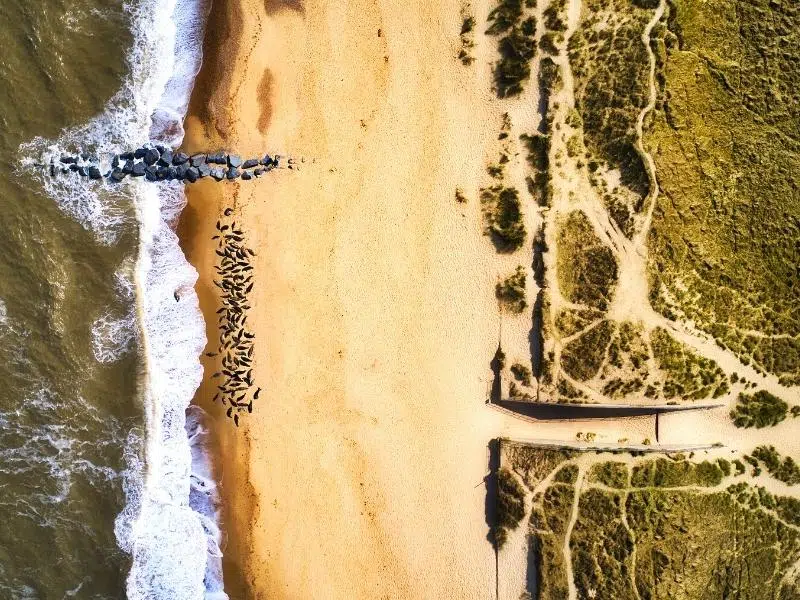 Horsey Beach Weather
If you're visiting Horsey for a holiday or short break, the months of July and August offer the highest temperatures, averaging between 20-26°C (68-79°F), with around nine hours of sunshine a day.
The chances are there will be a breeze on the beach, as is normal for Norfolk, and you should be prepared for the odd shower or two. Although East Anglia is the driest part of the UK, it has been known to rain unexpectedly – this is England after all!
The winter months are the busiest time for Horsey beach, when the seals haul up to have their pups. During this time average temperatures drop to 4-6°C (39-43°F), so make sure to wrap up warm when you visit the seals or head out for a bracing beach walk.
RELATED POST: 26 Pictures of Norfolk England to Inspire Your Trip!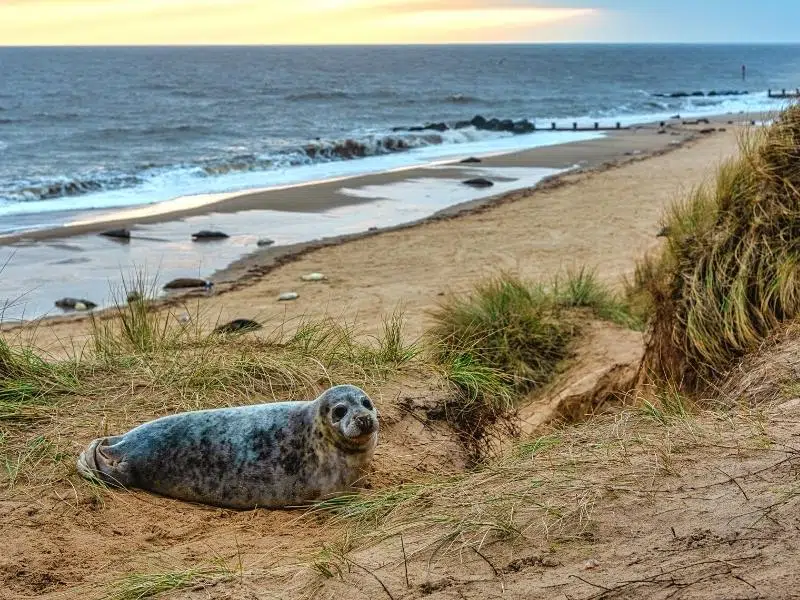 Is Horsey Beach Dog Friendly?
Horsey Beach is very dog friendly, but you must keep your dog away from the seals or resting on the beach in the water during the summer months.
In the winter months between late October and January, you won't be able to walk on the beach, although you can take your dog, but it must be leashed and controlled.
The Friends of Horsey Seals provide the following information about seals and dogs;
"However well trained your dog is most seem to be fascinated by seals and will be keen to investigate them. Seals are likely to become quite feisty if a dog approaches because instinctively they see them as predators. Please never allow your dogs off the lead anywhere near seals.
Female seals are very protective of their pups and won't hesitate to bite a dog if it gets near enough. Unfortunately, it is not unknown for a dog to attack small pups either. If your dog does get bitten it will need immediate veterinary attention. Seals carry harmful organisms in their mouths, which can cause nasty infections.
During pupping season, seals sometimes go up into the dunes for a bit of peace and quiet and you and your dog could easily come across them unexpectedly. Having said that, well behaved dogs on short leads are most welcome."
Please use the dog waste bins in the car park at the end of your walk.
RELATED POST: Dog Friendly Beaches Norfolk: The Best for Unleashed Fun!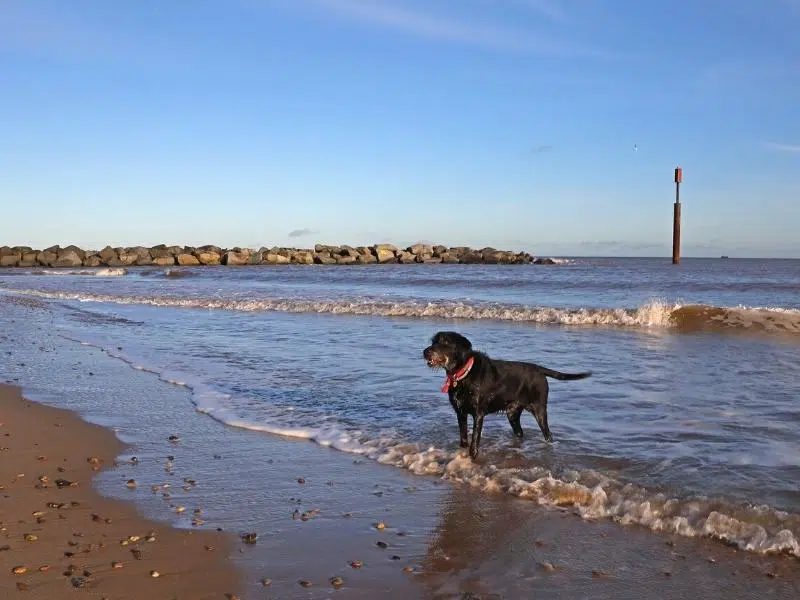 Is Horsey Beach Safe for Kids?
The beach itself is very safe, but I wouldn't advise allowing children to swim here. Horsey beach is not lifeguarded and there are known to be strong currents, as well as some areas with a steep drop off into the water.
Horsey beach is a little bit stony in places, so kids will benefit from jelly sandals or beach shoes in summer.
Kids will love coming to the beach to see the Horsey seals in their hundreds, as they give birth to their very cute pups, and having a nosy seal pop its head up metres away as you paddle is a real highlight of a trip to Horsey beach.
Sadly, every year their are reports of kids chasing pups into the water and throwing stones at the seals. This can lead to the death of baby seals, and adult seals can become aggressive to protect their young, or if they feel threatened.
RELATED POST: 30 of the Very Best Things To Do in Norfolk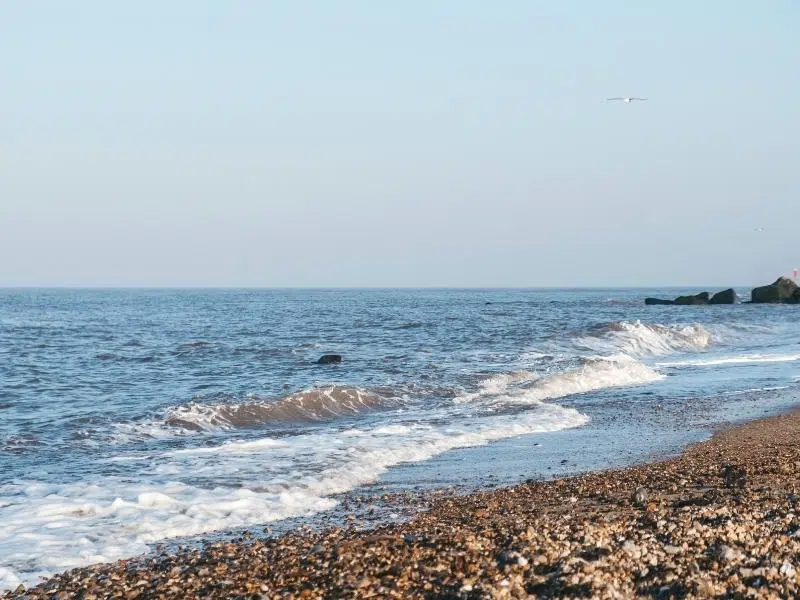 Tides at Horsey Beach
Horsey is one of those Norfolk beaches where there is a huge expanse of sand, whether the tide is in or out.
As the tide goes out, Horsey beach is revealed in all its glory with a vast swathe of firm and flat golden sand, perfect for long walks, kite flying and beach games.
You can check tide times at Horsey at norfolk-tides.com.
Arriving at Horsey Beach
As you arrive at Horsey beach through the huge man-made gap in the concrete sea wall you'll see the sea directly in front of you, with wood and rock groynes along the shore line, to help protect the coast from erosion.
On either side the low sea wall continues, topped by marram grass covered sand dunes, although in many areas the dunes have toppled over the top of the wall onto the beach.
To the south west, the sandy beach continues as far as the eye can see, and at some hazy point a few miles away is Winterton beach. Three miles to the north east is Waxham beach, a popular spot to swim with seals, who are intensely curious animals.
RELATED POST: Norfolk Beaches – Ultimate A-Z Guide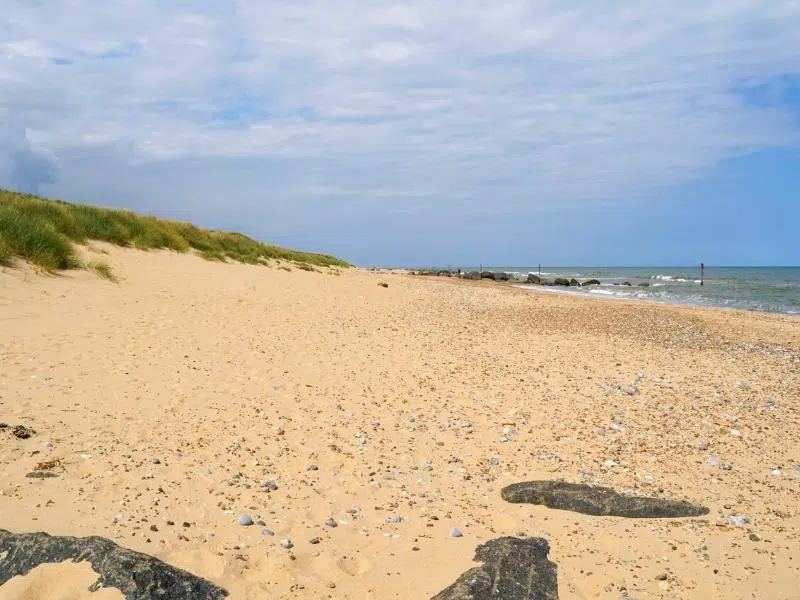 Seals at Horsey
Horsey, where the Norfolk Broads welcomes the North Sea, is a remote and secluded location and Horsey beach, along with Blakeney Point, is one of the best places in the country to experience the annual spectacle of hundreds of female grey seals coming onto the beach to give birth and nurse their pups.
The timing of of seal colony breeding seasons varies around the British coast – in Norfolk, grey seal pupping usually happens from late October to the end of January.
The sands are out of bounds to visitors during this time, but viewing platforms along the beach are easily accessed, so you can "ohh" and "ahh" at the Horsey beach seals and their very cute seal pups! And there are plenty of pups to coo over – 2069 of them were born here in 2021!
The flat sands of Horsey beach, shallow waters, good fish stocks and high dunes make this an ideal birthing destination for seals. It's an incredible sight as you walk over the dunes to the viewing platform to see thousands of seals and their gorgeous pups spread out across the sands.
You'll see volunteer Wardens from Friends of Horsey Seals (a registered charity whose aim is to protect the seals from disturbance and injury) around during the breeding season and they are a great source of knowledge about the colony and seal behaviour, and will answer all your questions.
Even if you're visiting in summer, you'll see Horsey Gap seals bobbing along in the sea – popping up to have a gander when they know people are on the beach! Sometimes you'll see a few seals basking in the sun here – you must remain at least 10 metres from the seals, and put your dog on a lead, so as not to disturb them.
There are lots of other places in Norfolk to see seals, and a highlight of any Norfolk holiday is to take a boat trip to Blakeney Point to see the seal colony there, where they are expecting over 2,500 pups to be born during the winter of 2022-23!
RELATED POST: Seals in Norfolk – Where & How to See Them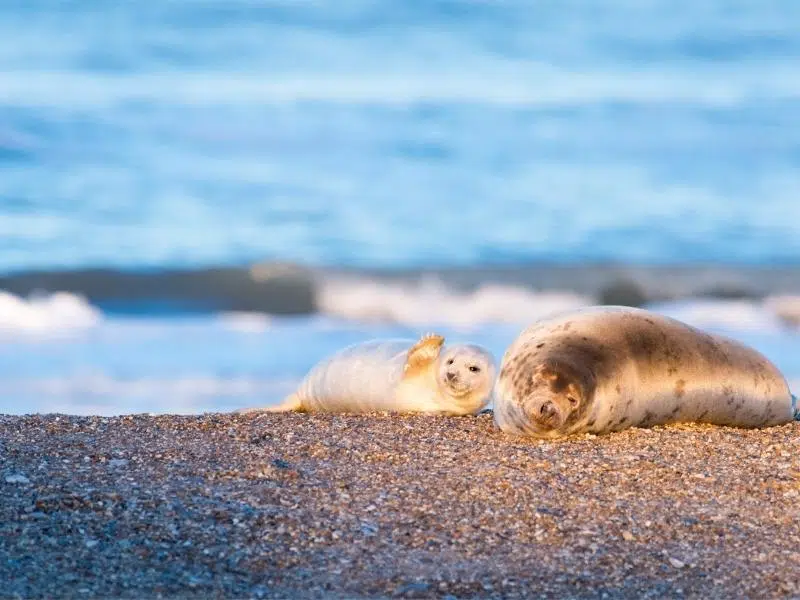 Norfolk Coast Path
The beautiful Norfolk Coast Path tracks Horsey Gap beach as it makes its way between Hunstanton and Hopton-on-Sea. It's easy to walk sections of the route either side of Horsey, along the beach and dunes to Winterton-on-Sea Sea south, or to Sea Palling, heading north.
From the car park at Horsey Gap, the Norfolk Coast Path follows an easy path between grassy dunes and grazing marsh, which is often home to herds of cattle and flocks of sheep, to Winterton-on-Sea. Along the route, you'll pass through the Winterton-Horsey SSSI, an internationally significant site that's home to dragonflies, rare butterflies, the natterjack toad and a little tern colony.
Just south of Horsey Gap, a FW3/24 pillbox can be seen from the coast path. These pillboxes bunkers were constructed between 1940 and 1941 and were used for the defense of the British Isles against a possible enemy invasion.
Heading in the opposite direction towards Sea Palling the path follows the landward side of a dune ridge that is typical of this stretch of the Norfolk coast. Winding through grassland and scrub, as well as shady thickets of trees, this section is popular with birdwatchers, and you might also spot a number of reptiles like common lizards and adders basking in the sun. The route offers fantatsic views inland where a number of churches can be seen, as well the iconic Happisburgh Lighthouse.
RELATED POST: Walks in Norfolk – 14 of the Best Trails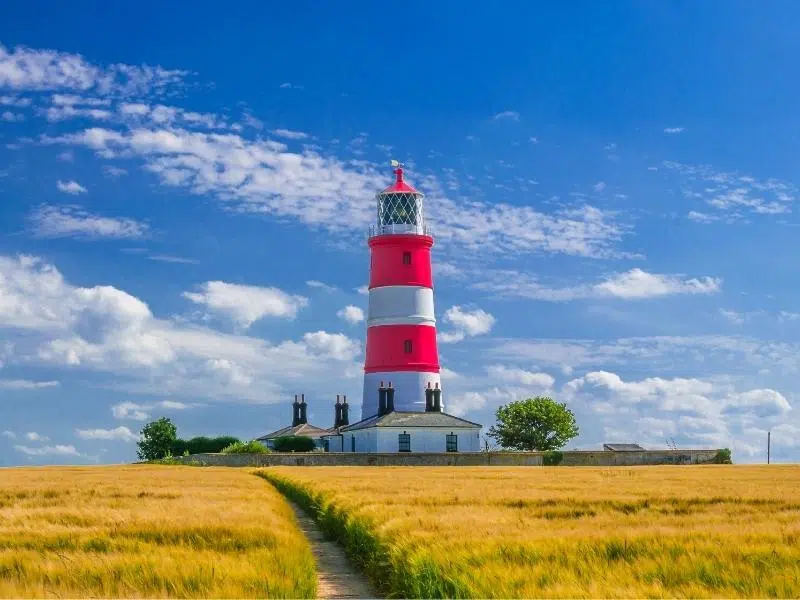 Horsey Windpump
Horsey Windpump is an iconic Broads building with a fascinating past. Standing watch over Horsey Mere, a climb to the top is rewarded with stunning panoramic views of the surrounding countryside and Broadland landscape.
Horsey Windpump is owned by the National Trust, who restored the building after the mill was struck by lightning in 1943 and then abandoned for 75 years. Now complete with a winding cap and turning sails, this delightful Grade II* listed building is ridiculously photogenic.
On site are toilets and also a café selling light refreshments, hot and cold drinks, snacks and the all important ice creams!
RELATED POST: 26 Exciting Things To Do On the Norfolk Broads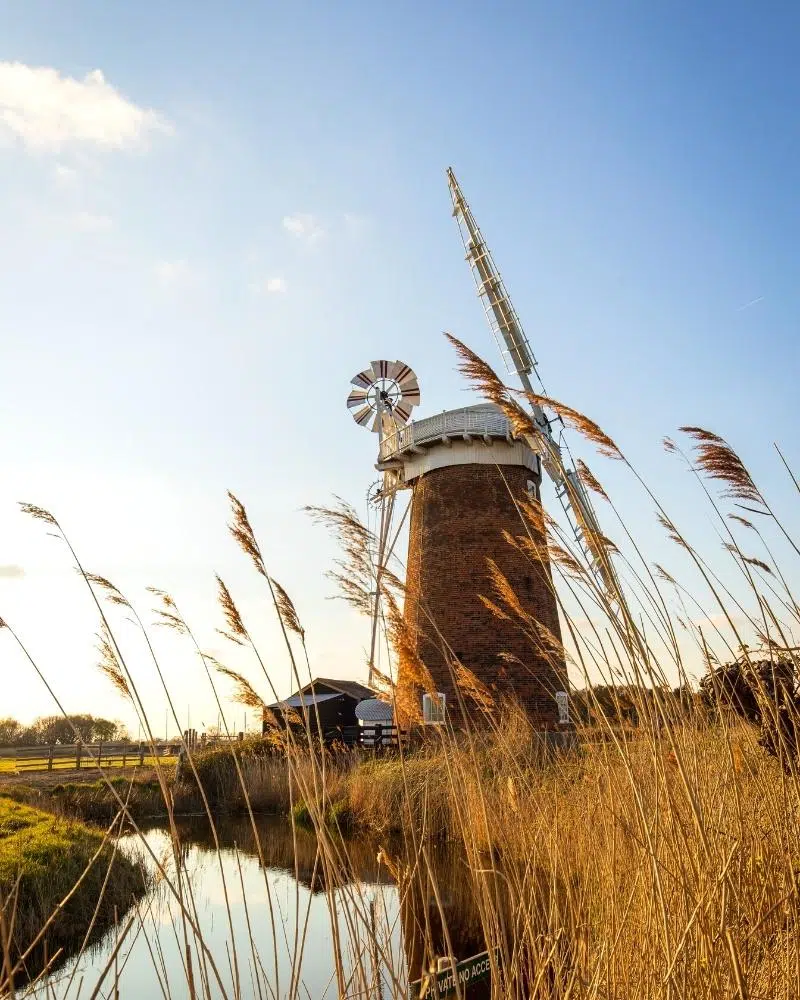 Food at Horsey Beach
The nearest place to get food to the beach is Poppylands Tearoom, which has a 1940's vibe and a classic menu, including a fabulous cooked breakfast and Sunday roast. It's a few minutes walk from the car park.
In Horsey village, a mile from the beach, is the the Neslon Head, a traditional child and dog friendly pub with plenty of outdoor seating. The menu is simple but good and includes lots of light bites and lunchtime classics, as well as a great local ale offer including Woodforde's and the Norfolk Brewhouse favourite, Moon Gazer.
RELATED POST: 26 Norfolk Food & Drink You Must Try!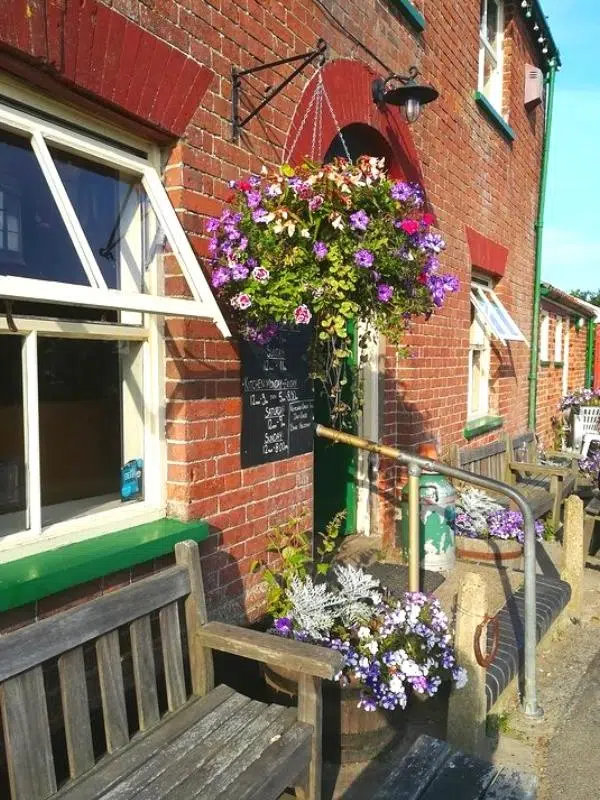 Where to Stay at Horsey Beach
At Horsey Corner is The Old Chapel Guest House B&B, a ten minute walk to the beach and in the heart of the Norfolk Broads. This 1800's chapel has been beautifully restored and has been awarded the highest four stars by The English Tourism Council.
Three miles to the south of Horsey is The Lion at West Somerton. A country pb with original and quirky rooms that are designed for comfort, a restaruant serving classic pub grub and local ales, this makes a great place to stop for a weekend or short break.
Just to the north of Horsey beach is Waxham Sands Holiday Park, perfect for motorhome touring and camping holidays in Norfolk.
RELATED POST: Norfolk Glamping – 15 of the Best Spots | The Ten Best Campsites in Norfolk
Do you love Horsey beach as much as I do? Tell us about your visit there in the comments!
Love it? Pin it!