The star of Norfolk's Deep History Coast, Happisburgh is a fascinating place to explore, with an ever-changing coastline and beach, iconic buildings and a rich history spanning thousands of years.
Happisburgh is a sleepy Norfolk village, and in a great location to discover North Norfolk and the Norfolk Broads, just a few miles to the south. It's also blessed with a beautiful and secluded sandy beach, perfect for dog lovers and fossil hunters.
Don't be put off by the stories of Happisburgh coastal erosion, there is a surprising amount to see and do in Happisburgh and it is safe to visit.
RELATED POST: The Ultimate Local's Guide to Norfolk England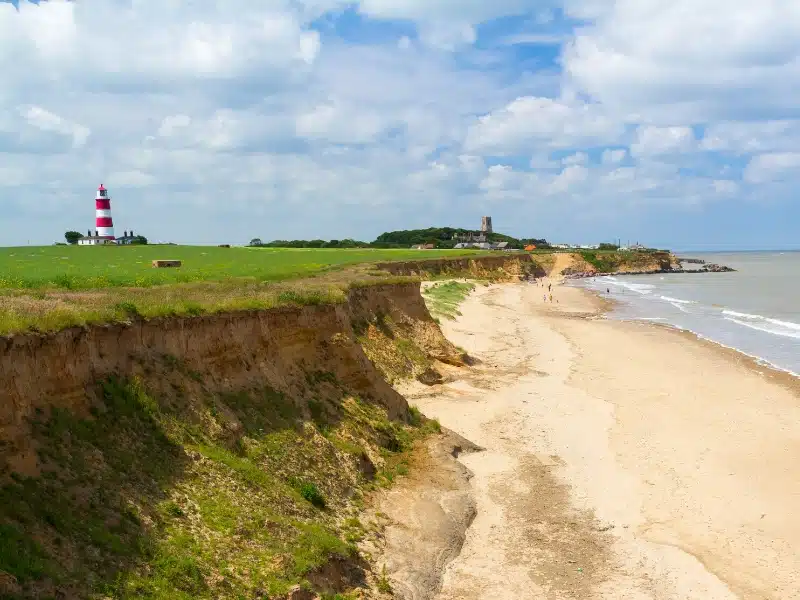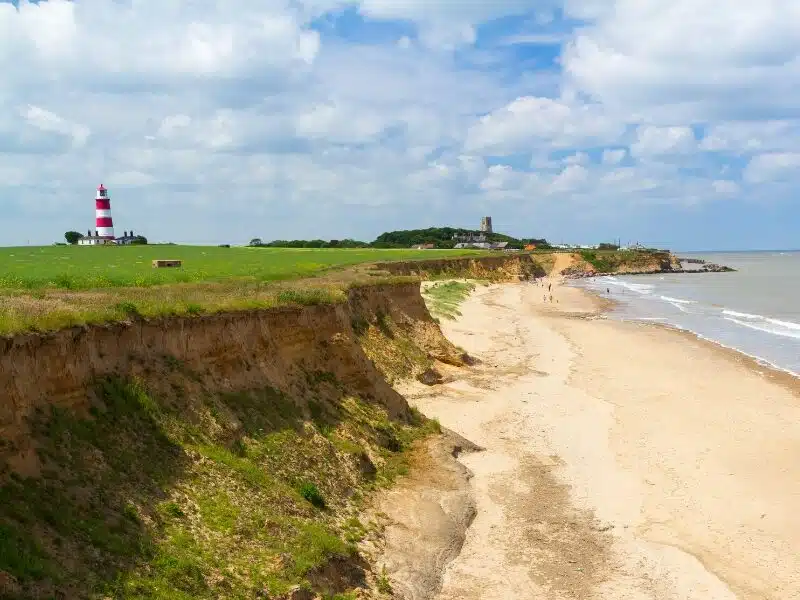 This post may contain affiliate links. If you book something I recommend, I make a small commission without affecting the price you pay!
Before we go any further, I need to get the pronunciation of Happisburgh out of the way! The correct Happisburgh pronunciation is hayz·bruh, probably as a result of laziness over hundreds of years, and the double pp being dropped to make sounding the placename quicker and easier.
Where is Happisburgh Norfolk?
Between the North Norfolk coast Area of Outstanding Natural Beauty and the Norfolk Broads, Happisburgh is situated 20 miles northeast of Norwich and 60 miles east of King's Lynn. The nearest substantial town is North Walsham, 6 miles inland.
Happisburgh lies between the seaside towns of Cromer and Great Yarmouth, with the adjacent villages of Bacton to the north and Eccles on Sea to the south.
RELATED POST: Norfolk Coast – 8 Amazing Ways to Explore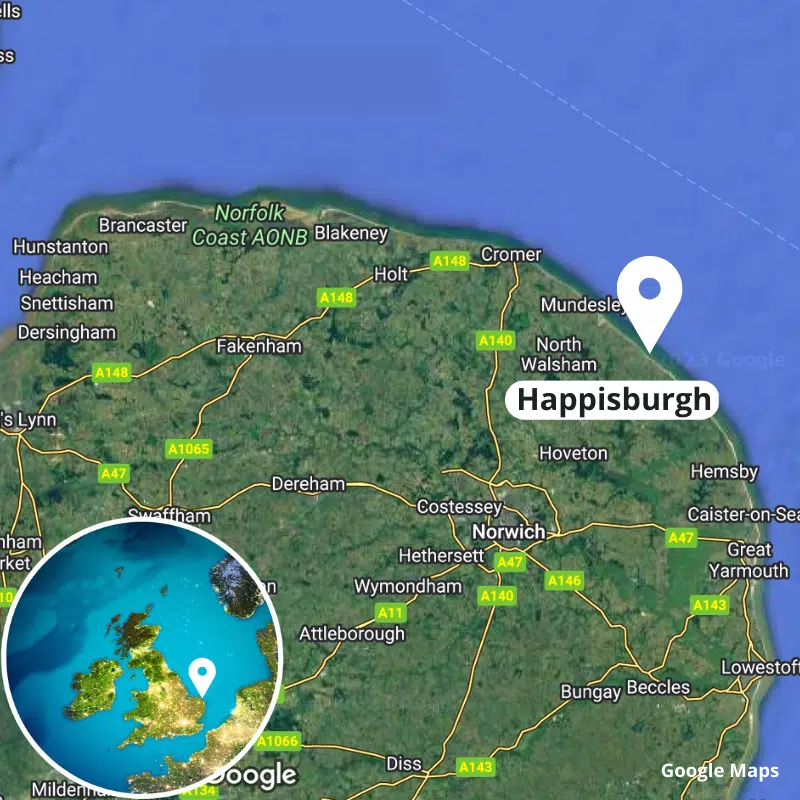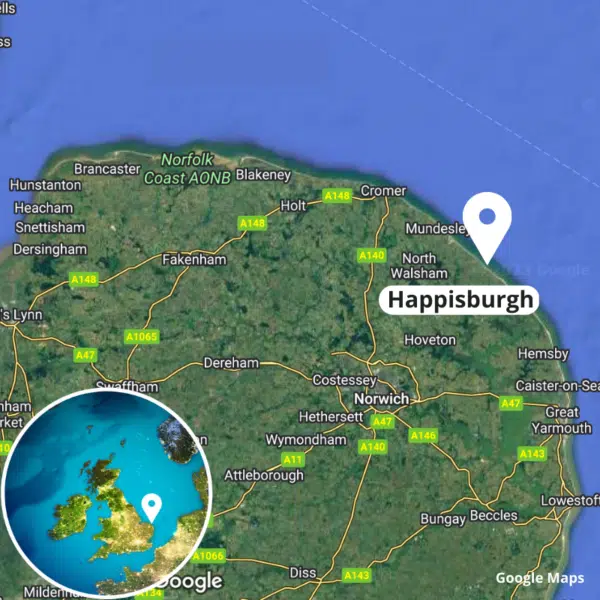 Happisburgh- Getting There & Getting Around
Driving to Happisburgh
If you're travelling from the north of the United Kingdom, pick up the A17 south at Newark-on-Trent and follow the route around the Wash to King's Lynn. This road is mainly single carriageway, and slow-moving agricultural traffic and trucks can cause delays, so build this into your travel plans.
If you're travelling from the Midlands, you'll come into Norfolk via Peterborough and pick up the A47 north and east to King's Lynn. From King's Lynn, which is well worth a stop on the way through, pick up the A47 or A148 towards Norwich. Take the Broadland Northway A1270 around the north of Norwich and head through Wroxham to Happisburgh.
From the south, the A10 brings you through Cambridge to Norwich onto the A11 and around the ring road, before you pick up the Broadland Northway A1270 to Wroxham and then Happisburgh.
Parking in Happisburgh
Happisburgh Community Car Park is well-signed and can be found at the end of Beach Road. This is a large hard standing car park with toilets, the HMS Invincible play park and an earth ramp down to the beach. After storms, this ramp is often closed due to erosion, but you can walk along the cliffs eastwards and find a safe route down.
There is a pay and display machine which takes cash and cards. The cost to park is £1.50 per hour and £7 for up to 24 hours.
Motorhomes are welcome but must purchase a ticket for all the parking bays they use, and are not allowed sto stay overnight. If you're in a large van, be mindful when driving down Beach Road – it's a single track with no passing places.
RELATED POST: All the Best Things To Do in King's Lynn Norfolk
Getting To Happisburgh by Public Transport
You can get to Norfolk's capital city Norwich by mainline train from London in less than two hours. Take the regular Greater Anglia service from London Liverpool Street, which leaves every hour or so.
Alternatively, you can take a National Express bus service from Victoria Coach Station to King's Lynn. This takes around 6.5 hours depending on the time of day, and you do need to change at Norwich, but it's often much cheaper than the train, especially when booked in advance.
Once in Norwich, either get the National Express 727 from Norwich Bus Station to the Market Gates stop in Great Yarmouth or the Greater Anglia train service to Great Yarmouth.
On arrival in Great Yarmouth, make your way to the Vauxhall Bridge stop and catch the number 6 Bus to North Walsham, where you'll change at the Elmhurst Avenue stop onto the 34 bus to Happisburgh Post Office. The journey will take around 2 hours and 10 minutes, regardless of whether you take the train or bus from Norwich.
You can find out more about bus routes between Norwich and Happisburgh on the Sanders Coaches website.
RELATED POST: 13 Exciting Things To Do in Great Yarmouth
Getting Around North Norfolk
The route 34 bus does a loop between the villages around Happisburgh, including Mundesley, Paston, Bacton, Walcott and Sea Palling.
At Mundesley, you can pick up the CoastHopper 2 bus which connects with Trimingham, Sidestrand, Overstrand, Cromer, East Runton, West Runton, Sheringham, Bodham, High Kelling and Holt.
The CoastLiner bus at Wells-next-the-Sea connects with Sheringham, Holkham, Burnham Market and Brancaster before arriving at Hunstanton.
From Wells, you can also hop onto the CoastHopper 1 bus to Stiffkey, Morston, Blakeney, Cley, Salthouse, Weybourne, Sheringham, East Runton, West Runton and Cromer, meaning you can get to many of the best spots on the North Norfolk coast by bus.
How about getting around by bike? The Norfolk Coast Cycleway runs from King's Lynn to Great Yarmouth and the Rebellion Way is a circular route around Norfolk. Both follow a network of byways, bridleways and quiet country lanes which are perfect for cycling, and link pretty villages around the county.
These lanes, bordered by fields of wheat, hedgerows and woodlands, see little traffic, which means you can explore the Norfolk coast at a leisurely and safe pace. The nearest place to hire bikes is Woods Cycles Ltd on Cromer Road in Mundesley.
RELATED POST: North Norfolk Coast – 19 Unmissable Highlights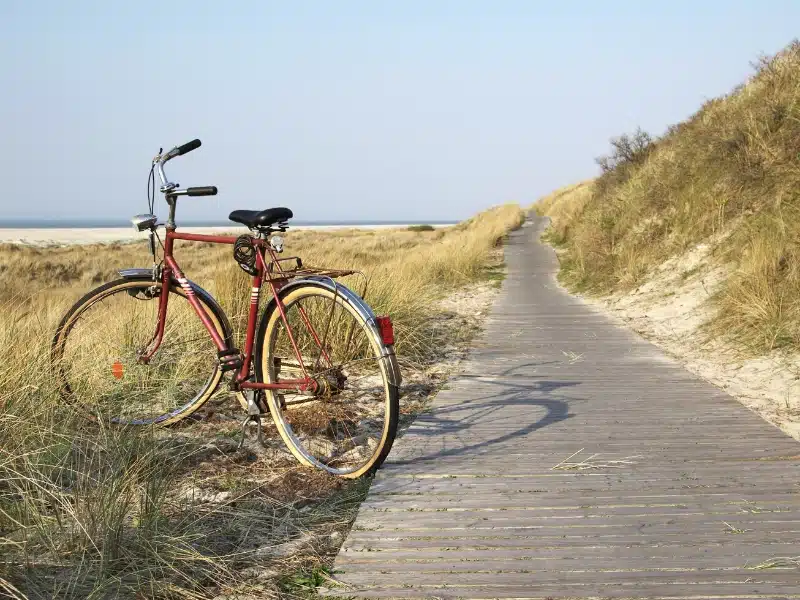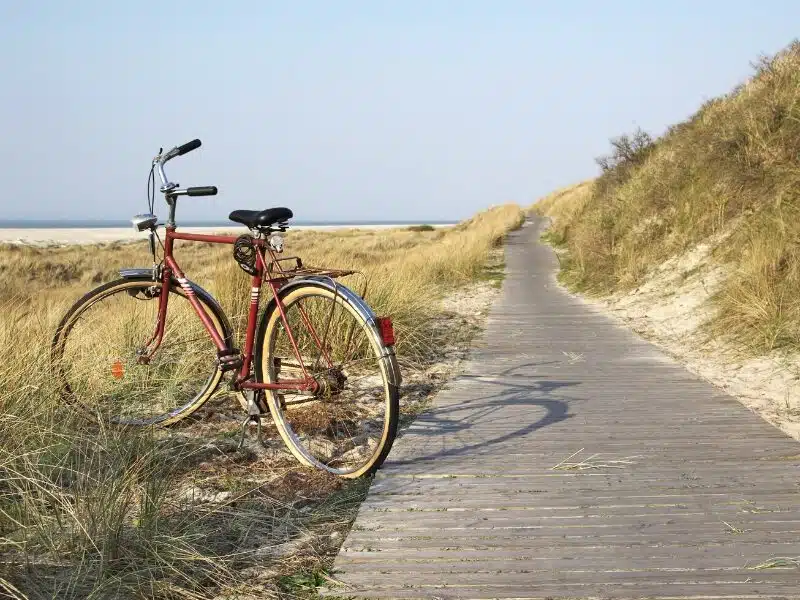 Happisburgh History (in brief!)
The place name 'Happisburgh' is first mentioned in the Domesday Book of 1086, where it appears as Hapesburc. The name means 'Haep's fort' or fortified place.
But Happisburg history goes back much further than that! In 2010, Happisburgh became a site of national archaeological importance when flint tools fromover 800,000 years ago were unearthed, the oldest evidence of human occupation anywhere in the United Kingdom.
Then, in 2013, international headlines were made when a layer of sediment was exposed by the tide to reveal ancient footprints, which were dated to over 850,000 years ago. These Happisburgh footprints provided direct evidence of early human activity on the Norfolk coast.
It is known that the Vikings were present in Happisburgh, and Edric the Dane was Overlord at the time of the Norman Conquest – he appears on the right of the village sign. After he was overthrown the village passed eventually to Roger Bigod, whose daughter Maud – on the left of the sign – married William d'Albini, who was given the village as Maud's wedding portion.
In the centre of the sign is the Reverend Thomas Lloyd who baptised 170 people on Whit Sunday 1793. Between the Church and the Lighthouse is a shield bearing wheat, a symbol of agriculture, and at the base is a historic lifeboat.
From the 1890s until the outbreak of the Second World War, many visitors came to spend the summer in Happisburgh, staying in cottages in the village, and during the war, Happisburgh was heavily involved in operating coastal radars. You can find out more about this at the excellent RAF Air Defence Radar Museum at Neatishead.
RELATED POST: 21 Museums in Norfolk You Won't Want to Miss!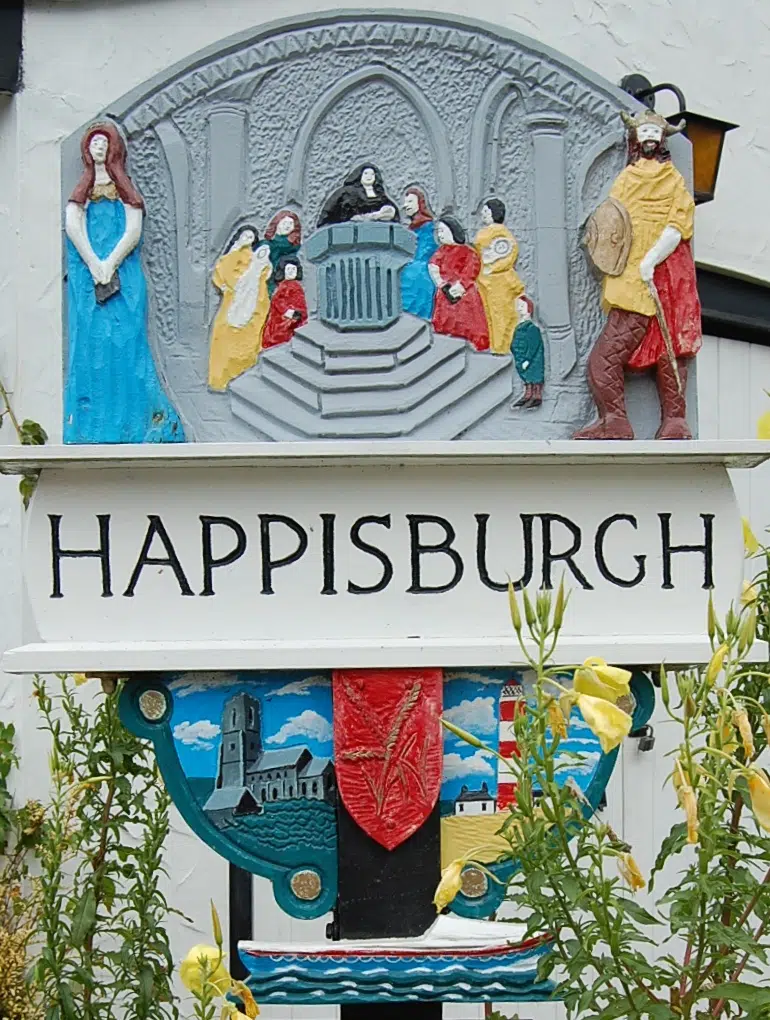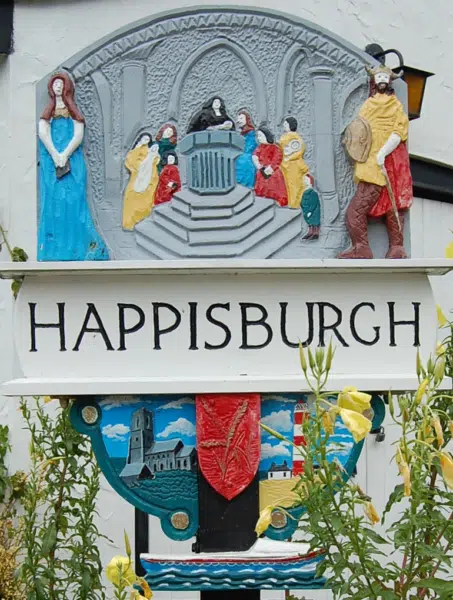 Things To Do in Happisburgh
Spend the Day at Happisburgh Beach
Part of Norfolk's Deep History Coast, Happisburgh Beach is where 850,000-year-old footprints were discovered when a layer of sediment was exposed by the tide. In fact, 50 footprints were discovered, belonging to five adults and children making their way south – sadly they washed away within two weeks!
The footprints, dated to over 850,000 years old, along with the discovery of the West Runton Mammoth, have now made the Norfolk coastline an integral part of ancient British history, and you can search for your own fossils on the beaches today.
Happisburgh has been devastated by coastal erosion, and the beach has been formed by years of battering by both sea and the wind, losing cliffs and houses to the weather – 34 dwellings have tumbled into the sea in the last 20 years.
What remains is a beautiful and unspoilt bay. When the tide is in, the waves come right up to the cliffs and cut off the access ramp. At low tide there's a big expanse of predominantly sandy beach with some pebbles, leaving plenty of space for kids to run around and play beach games, and dogs too, as there are no dog restrictions on this dog friendly beach.
The beach is not lifeguarded and there are signs asking people not to swim. If you're looking for a safe family-friendly swimming beach, head up the road to the blue flag Mundesley beach.
To the north is Walcott beach and to the south is Cart Gap – you can walk the whole stretch between them when the tide is out, and even further if you have the legs! You might have to manoeuvre a bit around the large granite block sea defences which have been placed along the beach, but that just adds to the exercise!
Look out for the Happisburgh Time and Tide Bell, known as The Spirit of Hasbro, which was installed on the beach in early July 2023.
The Happisburgh Bell is designed to be rung by the waves at high tide creating a gently musical sound. One of 13 time and tide bells located around Great Britain, the timber frame holding the bell was planed from a single oak tree planted over 200 years ago in 1790 and felled in 2021.
Before walking for any distance check Happisburgh beach tide times here.
RELATED POST: Norfolk Beaches – Ultimate A-Z Guide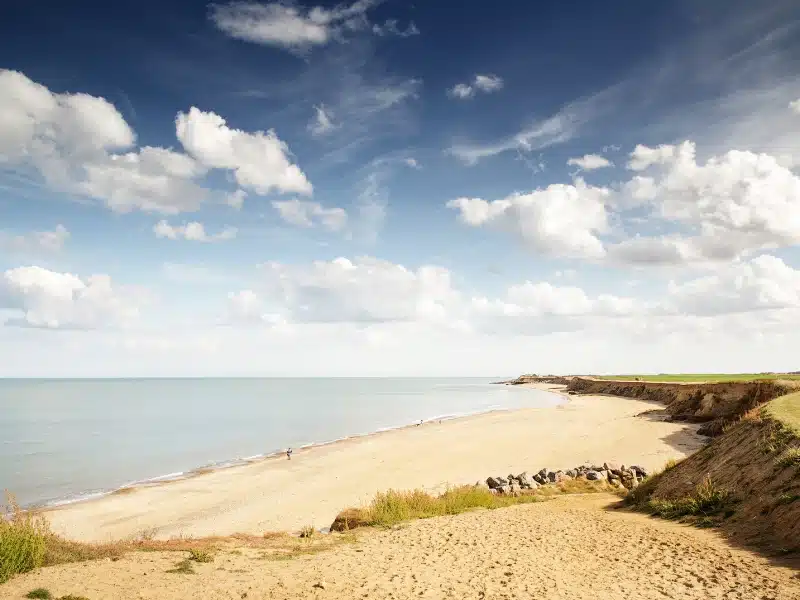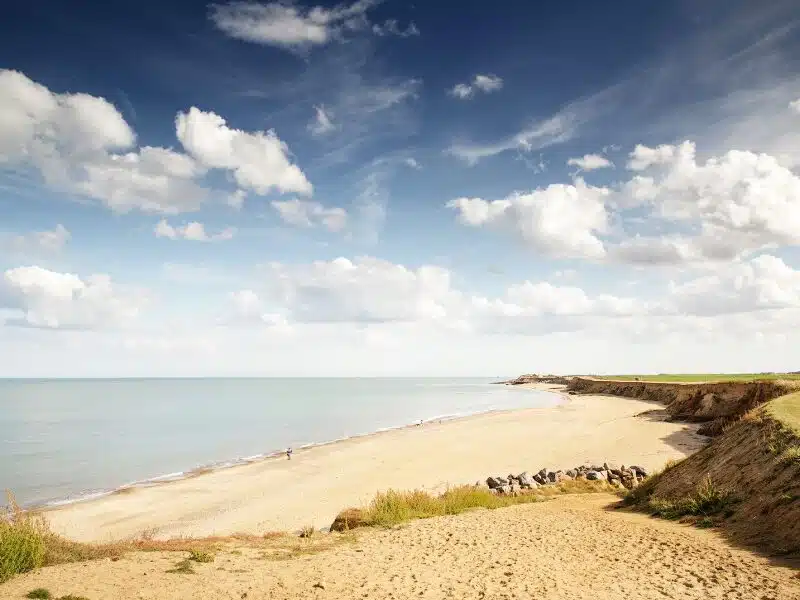 Hunt For Fossils on the Deep History Coast
The Deep History Coast is made up of 22 miles of coastline from Weybourne to Cart Gap along the clifftops of the North Norfolk coast, including Happisburgh and West Runton, where the most significant finds have been made.
Exploring the Deep History Coast is a fascinating and fun day out for families, with lots of activities to help you understand the millennia of history in the area.
Happisburgh, and much of the Deep History Coast, has lost land to the sea for thousands of years, but in recent years, due to the regular storms brough by climate change and the resulting sea level rise, deep and regular scouring by the sea is exposing a lot of fossils from the Forest Bed, formed between over 500,000 and 2 million years ago.
It is now quite common to find fossils lying around on the beaches which are washed from the beds both below beach level and at the lower part of the cliff – the best times to hunt are after a high tide or winter storm.
When you arrive on Happisburgh beach, the glacial beds start immediately and the Forest Bed is exposed on the foreshore and lower sections of the beach when the tide is out, and the best fossils are found on the foreshore, along the tideline and amongst the shingle.
As well as fossil hunting at Happisburgh, try rock-pooling and fossil hunting at West Runton beach, where the Steppe mammoth skeleton was found. It's common to find fossils at West Runton, ranging from mammoth teeth and belemnites to hyena coprolites, which is fossilised poo!
RELATED POST: North Norfolk Coast – 19 Unmissable Highlights
Discover Happisburgh Lighthouse
Happisburgh's other claim to fame is the insanely photogenic Happisburgh Lighthouse, an iconic red and white striped lighthouse that is a famous Norfolk landmark.
Built to support safe passage around the southern end of the treacherous Haisborough Sands in 1790 and originally one of a pair, the tower is 26m tall and the lantern is 41m above sea level. Happisburgh Lighthouse is the oldest working lighthouse in East Anglia, and the only independently operated lighthouse in Great Britain.
Saved as a working lighthouse by the local community, it is maintained and operated entirely by voluntary contributions and has open days where you can climb the 112 steps to the light for fantastic coastal views, and find out more about how the light is operated.
RELATED POST: 30 of the Very Best Things To Do in Norfolk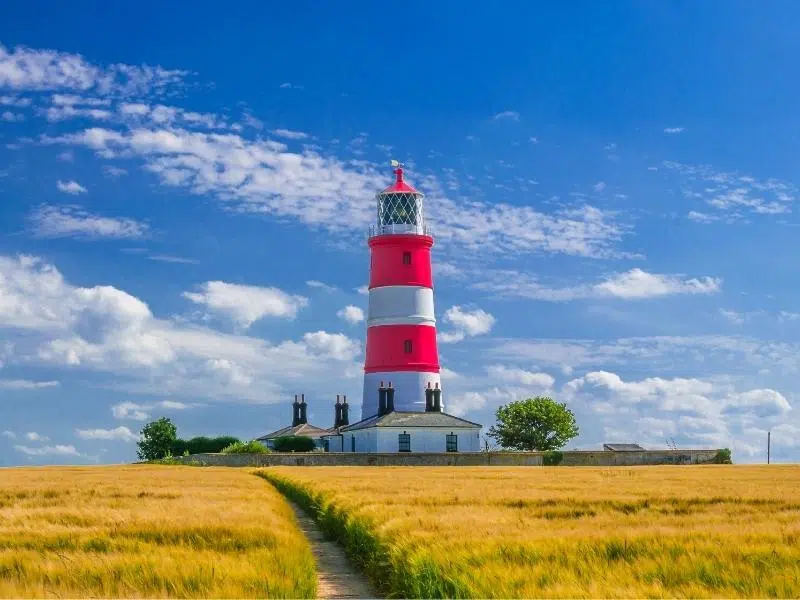 Head Out for a Walk
Norfolk Coast Path
Very probably the best-loved of the Norfolk trails, and one of the best ways to experience the wilderness and unique landscapes of the Norfolk coastline, the Norfolk Coast Path runs from Hunstanton in West Norfolk, to Hopton-on-Sea in South Norfolk, where Norfolk meets Suffolk.
Happisburgh is in the middle of the Mundesley to Sea Palling section of the Norfolk Coast Path, with the route passing through Happisburgh at the Beach Road car park. Catching the Coasthopper 2 or 34 bus back to Happisburgh from either end of the section makes for a pleasant day's walking. You can get the section route map here.
The route to Mundesley is 5.3 miles of beach, road and clifftop hiking, passing through designated Sites of Special Scientific Interest, wildlife havens and small seaside villages.
Head 4.2 miles south to Sea Palling, a bracing seaside walk that follows the beach and cliff path for much of the way. You'll be passing wildlife sites and old military defences and you may well see swimming seals – in 2013-14 a humpback whale was spotted out to sea.
The Happisburgh Village Trail
You can trace some of Happisburgh's story through the local buildings including Monastery Cottage, which dates back to at least 1101 when it was granted to Wymondham Abbey, 12th century St Mary's Church (where you should definitely climb the tower), the 15th century Tithe Barn, the late Tudor Manor Farmhouse, Happisburgh Lighthouse which was built in 1790, and the Grade II Arts and Crafts Happisburgh Manor.
There is a fantastic 1.75 mile trail through the village which takes you past landmarks and historic buildings, although many are private and must not be entered. There are information panels along the route to help you learn about the history of Happisburgh.
Start at Happisburgh Church, where you should take a moment to find the memorial stone for the lost souls of HMS Invincible, who were buried in the churchyard in a mass grave after their ship was caught in a storm off Happisburgh in 1801.
Follow the route in numerical order and finish back at the historic and friendly village pub. Get the route map here.
RELATED POST: Walks in Norfolk – 14 of the Best Trails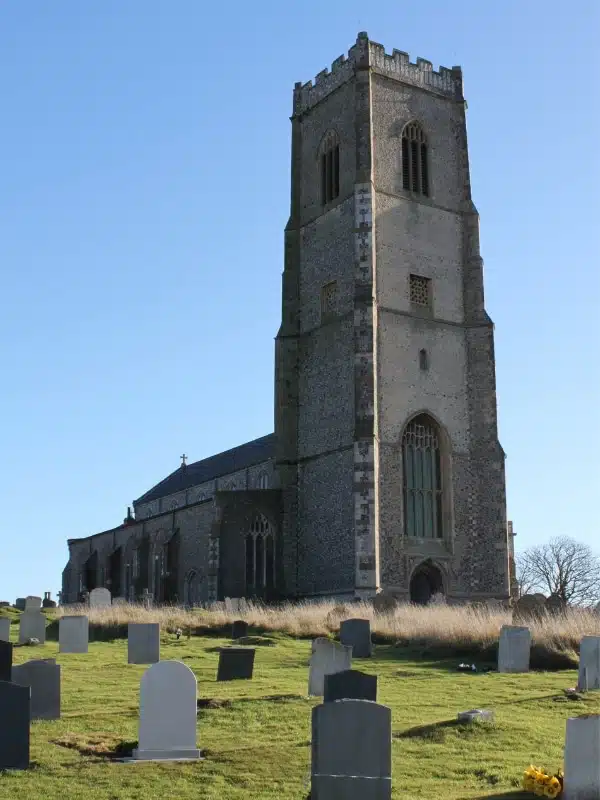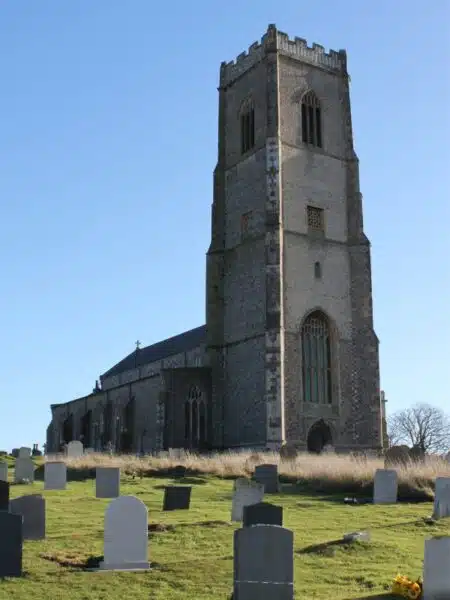 Visit Happisburgh Owls
Happisburgh Owls offer visitors the opportunity to get up close with their hand-raised owls and learn about these fascinating creatures. You need to book in advance as they only offer private pre-booked appointments.
The Happisburgh owls are tame and well-supervised and can be handled by all age groups. Learn about the everyday lives of these beautiful creatures and their conservation with Sandra, Darwin and Alec who clearly have a passion for their birds!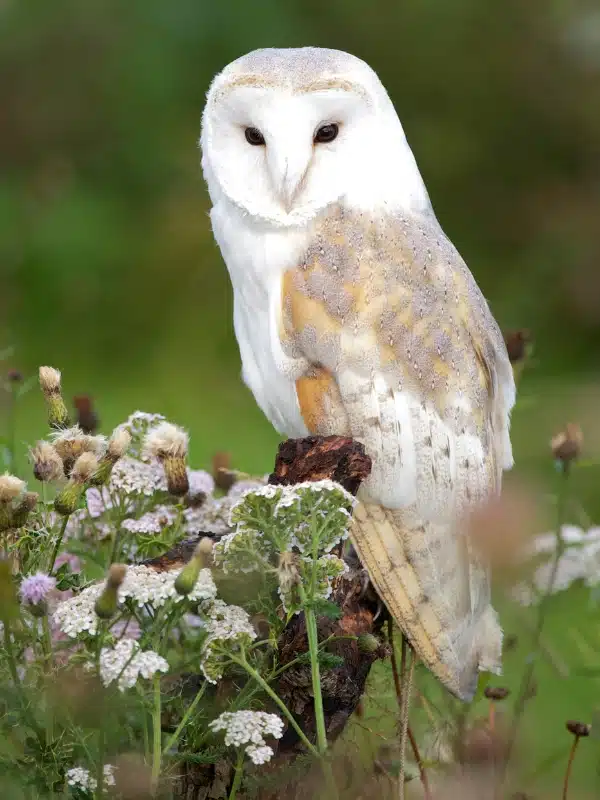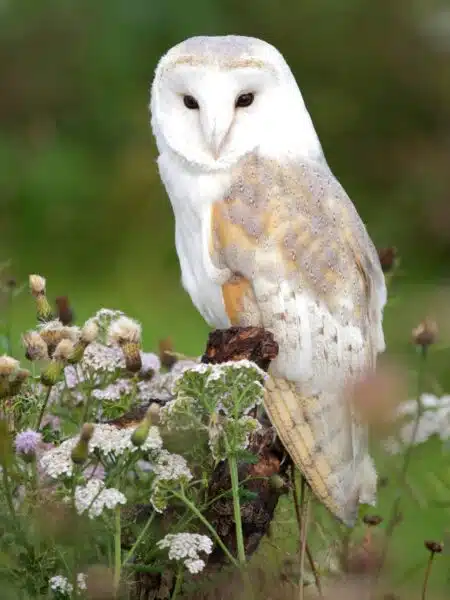 Things To Do Near Happisburgh
Tour Norfolk's Stately Homes
Blickling Estate
16 miles inland from Happisburgh and home to Anne Boleyn amongst others, 17th century Blickling Hall is a Jacobean mansion packed full of history, with 4,600 acres of gardens and parkland to explore, run by the National Trust.
Interior rooms are styled in different periods from the Hall's history, telling the story through paintings, antiques and the furniture used by those that lived there.
The formal gardens cover over 55 acres and include a lake, an 18th century temple and an Orangery. The wider estate covers some 4,600 acres with 950 acres of woodland and parkland, with marked trails, perfect for walking and a picnic.
Felbrigg Hall
17 miles from Happisburgh near Cromer, Felbrigg Hall is a 17th century historic hall and one of the most elegant country houses in East Anglia. Also run by the National Trust, the unaltered house is known for its fine Jacobean architecture, stained glass windows, original features and gorgeous Georgian interior.
Outside is a colourful walled garden, an 18th century Orangery, orchards, and over 500 acres of parkland which several local trails crisscross, including the Weavers' Way, a walking route through the wonderful Norfolk Broads.
Holkham Estate
A wonderful destination close to Wells-next-the-Sea, Holkham has it all. The small village boasts a stately home and estate, Holkham Hall, Holkham beach and the Holkham National Nature Reserve. There's a lot going on here, making the 40 miles from Happisburgh a worthwhile drive.
Built in 1764, Holkham Hall is an 18th century Palladian masterpiece and a wonderful example of the architectural style of the day. The statuary and art collection, fascinating restored Victorian kitchen and the immense entrance hall, with a deeply coved and coffered ceiling supported by towering columns and panelling of English alabaster, make Holkham one of the best stately homes in Norfolk, if not England.
RELATED POST: 14 Stately Homes in Norfolk to Visit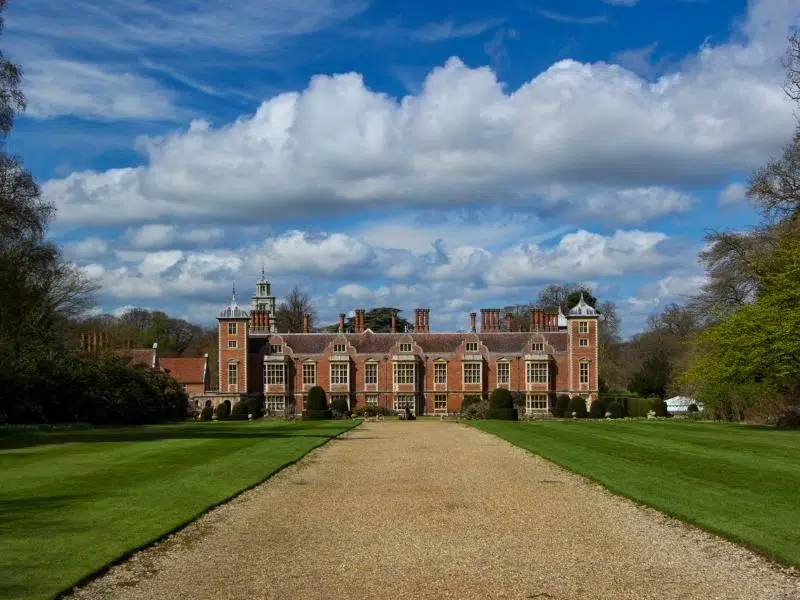 Discover the Norfolk Broads
With huge skies, infinite landscapes, tranquil water and abundant wildlife, the Norfolk Broads are a beautiful place to visit – you can find out how in my Norfolk Broads guide.
The Broads National Park is made up of over 60 open areas of water known as Broads, which, along with the rivers Yare, and its tributaries the Ant, Thurne, Bure, Chet and Waveney, occupy a vast triangle of land formed by Great Yarmouth, Wroxham, and Stalham.
Head for Potter Heigham, Ranworth or South Walsham, small picturesque villages with interesting churches, which make great starting points. The beauty and nature of the Broads are best appreciated from the water, and motor cruisers, kayaks and canoes can be rented, or you can take a Broads boat tour if you're not confident on the water.
RELATED POST: 26 Exciting Things To Do On the Norfolk Broads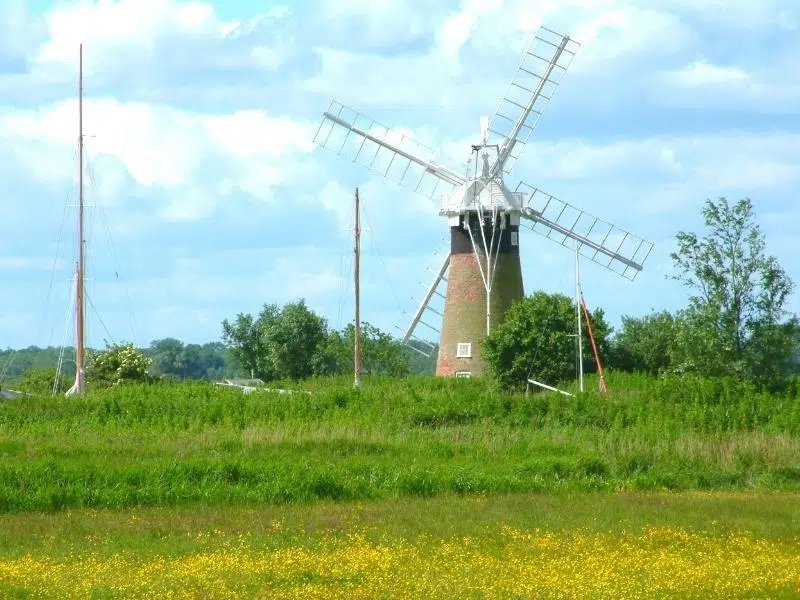 Visit Horsey
Horsey Windpump is an iconic Broads building with a fascinating past. Standing watch over Horsey Mere to the east of Hickling Broad, a climb to the top is rewarded with stunning panoramic views of the surrounding countryside and Broadland landscape.

Horsey Windpump is owned by the National Trust, which restored the building after the mill was struck by lightning in 1943 and abandoned for 75 years. Now complete with a winding cap and turning sails, this delightful Grade II* listed building is ridiculously photogenic.

Horsey, where the Broads meet the coast, is a remote and secluded location, perfect for walking and bird watching throughout the seasons. There is an easy three mile circular walk from the mill to Horsey Gap, where you can see the seal pups between late October and February.
In most winters, over 2,000 seal pups are born, and it's an incredible sight as you walk over the dunes to the viewing platform. Even if you're visiting in summer, you'll see seals bobbing along in the sea – popping up to have a nose when they know people are on the beach!
RELATED POST: Seals in Norfolk – Where & How to See Them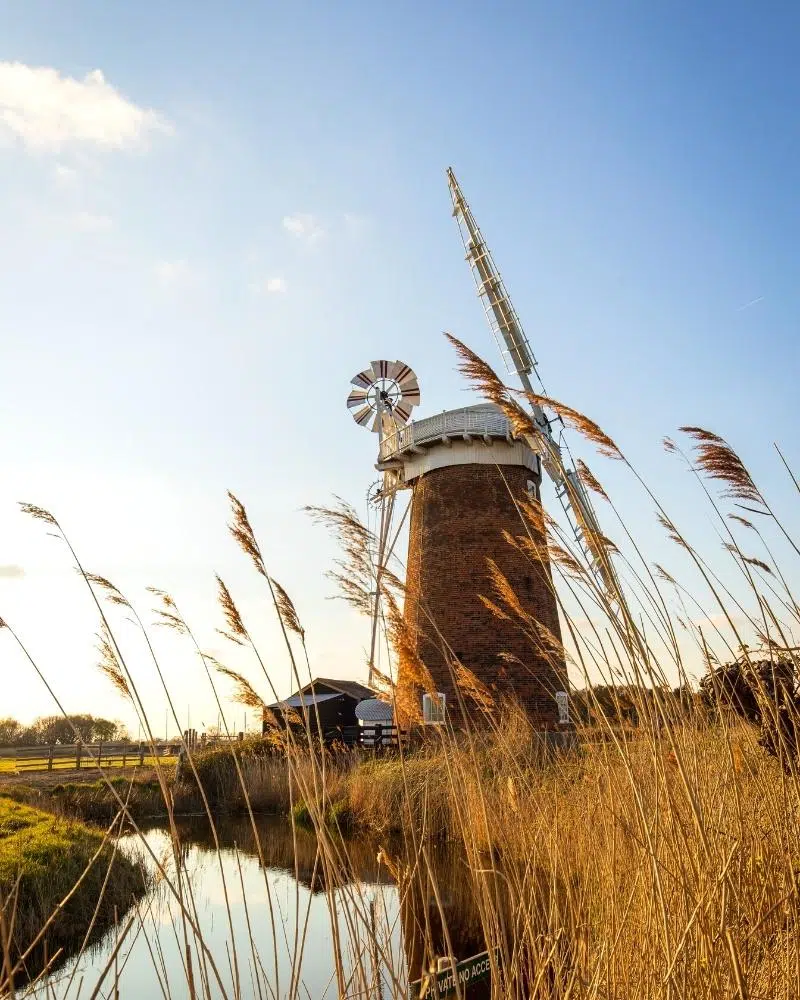 Explore the Local Gardens
East Ruston Old Vicarage Garden
Three miles south of Happisburgh, East Ruston is absolutely my favourite garden in the whole of Norfolk. Set over 32 glorious acres, close to the North Sea, East Ruston is an interesting and eclectic space.
There's a real mix of planting here, from lush green exotics to a jumble of traditional English cottage garden planting. There's a large swathe of prairie planting, gorgeous glasshouses and lots of interesting corners, archways and doorways that demand you explore!
The Apple Walk has many old varieties of espaliered apple trees with a fabulous carpet of violet nepeta at their feet and passes through a wildflower meadow with a wildlife pond. The photogenic gap in the hedging at the end of the walk focuses on the view of Saint Mary's Church in Happisburgh sitting on the cliff two miles distant.
Hoveton Hall Gardens
Ten miles from Happisburgh, Hoveton Hall Gardens were first planted in the early 19th century and are a delight throughout the seasons.
Enjoy a visit to the gardens in springtime when the grounds are carpeted with hundreds of different varieties of snowdrops and daffodils, some of which are very rare.
May and June see the spectacular colours of the azaleas and rhododendrons take centre stage, closely followed by the perfect manicured lawns and glory of the formal herbaceous borders, featuring over 600 plant varieties, in July and August.
How Hill Estate
Eleven miles south of Happisburgh, the How Hill Estate is a study centre with a fine thatched Edwardian house set in acres of reed, marsh and woodland at the edge of the River Ant.
The formal gardens of the house, planted in a traditional English cottage garden style, are bursting with colour in the summer months and are a haven for butterflies and bees. The house gardens are closed when study groups are in residence, so best to check that the house garden will be open before visiting.
Explore the hidden woodland gardens, which were established in the early 1920s. The area was once a windswept piece of rough grazing marsh and you can find out how marshmen lived and worked at the restored drainage mills and the tiny Toad Hole Cottage Museum. Then follow the nature trail or take a boat trip through the reed beds to the banks of the River Ant.
RELATED POST: The 21 Best Gardens in Norfolk to Visit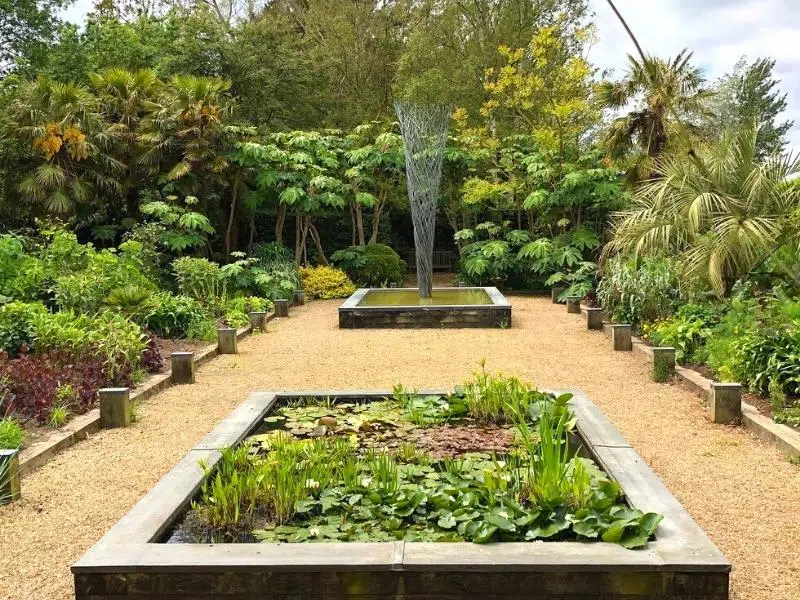 Happisburgh Accommodation
Happisburgh has a small selection of holiday cottages and holiday homes for rent, and some great campsites and holiday parks nearby, but no hotels, so our recommendations are for hotels nearby. Whatever your accommodation style, we've rounded up the best options for your Happisburgh holidays.
The Ingham Swan Ingham
An award-winning restaurant with rooms, The Ingham Swan is housed in a thatched brick and flint cottage in the tiny village of Ingam, four miles south of Happisburgh.
Their 4 star AA rooms are offered in the converted coach house or cottage accommodation literally next door. Stylish and cosy, there are lots of original features on display, and you can choose from standard, superior and superior king rooms.
Chef Daniel Smith of BBC 2s Great British Menu runs the 3 AA Rosette and Michelin recommended restaurant which offers fine dining in a relaxed setting, and his commitment to local seasonality is showcased on the delicious menus.
RELATED POST: Norfolk Coast Hotels: 18 of the Best Places to Stay by the Sea
Wayford Bridge Inn Stalham
Located in Stalham in the heart of the Broads and six miles from Happisburgh, the Wayford Bridge Inn is in a great spot for both the coast and Broads.
Their 28 rooms are classicly comfortable, and some are dog friendly. Choose from twins, doubles, garden rooms and family rooms.
There is a traditional bar and restaurant serving a full menu, including Sunday lunch, and you can enjoy the beer garden with views of the nearby river Ant.
Happisburgh Holiday Homes
There are lots of holiday cottages and Airbnb-style holiday rentals in and around Happisburgh. From one-bed cottages and static caravans to huge converted barns, use VRBO to search for the best deals and find availability on Happisburgh holiday accommodation.
Manor Caravan Park Happisburgh
Located in the heart of Happisburgh village, Manor Caravan Park is a small coastal retreat owned by the same family for over 50 years.
There are 130 privately owned static caravans, plus an adjoining field of camping and touring caravan pitches which benefit from 16amp electrical hook-ups and fresh drinking water. An Elsan point is available for waste disposal and sinks with hot water are situated on the camping field, along with a spacious and well-equipped shower block.
RELATED POST: The Ten Best Campsites in Norfolk
Lanterns Shepherds Huts & Glamping Happisburgh
Lanterns Glamping is a small site on a quiet country lane just outside the village, offering luxury glamping in a tranquil environment, which is licensed and accredited by the Woodland Champions Club.
Lanterns Glamping currently has two shepherd huts and two wooden glamping pods. All are fitted out with everything you need for your stay and feature Emma memory foam mattresses on the double beds, satellite TV and WiFi. Bed linen and towels are included, as are Scottish Fine Soaps toiletries.
You will find tea, coffee, sugar & milk to get you started, as well as basics like washing up liquid, salt & pepper, oil & vinegar. Outside is your own private picnic bench, folding garden chairs, muddy welly/boot rack and a metal stand to be used with your disposable BBQ. Well-behaved dogs are welcomed, but must be kept on a lead.
RELATED POST: Norfolk Glamping – 15 of the Best Spots
Places to Eat in Happisburgh
Alongside the local hotels mentioned above, which all offer a full restaurant service to non-residents, there are a few other great places to eat in and around Happisburgh.
The Hill House Inn Happisburgh
Happisburgh's own pub, Hill House Inn, is as traditional and unspoiled as they come, with a history that includes smugglers, and Sir Arthur Conan-Doyle, who stayed there and wrote the Sherlock Holmes story, The Dancing Men, now the name of their microbrewery.
The menu offers simple pub grub, like homemade pies, ploughman's, burgers and fish and chips. At the bar, local ales, Norfolk gins and wines are served, and the microbrewery holds regular beer festivals with live music and entertainment.
RELATED POST: Breweries in Norfolk – Best 16 to Visit
Sarnies by the Sea
Just before the entrance to the car park on Beach Road is Sarnies by the Sea, a coffee and food stand. They serve hot and cold drinks and treats like homemade sausage rolls, quiche, cakes and really good sandwiches made to order. There are tables with shade where you can enjoy your meal or drink.
Smallsticks Café Eccles on Sea
Just along the coast east of Happisburgh and a mile before the RNLI Happisburgh Lifeboat Station at Cart Gap is Smallsticks Café, where you can get a proper cooked breakfast, baps, sandwiches, jackets and really good homemade cakes, as well as hot and cold drinks.
The Lighthouse Inn Walcott
Just two miles to the north is The Lighthouse Inn, where there is a well-stocked bar serving local real ales including Woodfordes and Green King. There is also a welcoming café serving tea and coffee, delicious cakes and speciality teas as well as light lunches.
In the restaurant, you'll find seasonal produce on the menu including the famous Lighthouse pies, fresh local seafood like Cromer crab and a good range of vegetarian and vegan choices.
A recent addition is Lighthouse Camping, which offers five caravan or motorhome hard-standing pitches, and ten tent pitches. Pitches include 16amp EHU, with plentiful drinking water and waste services.
RELATED POST: Best Fish & Chips Norfolk: 14 Top Places
Have I missed your favourite Happisburgh place to stay, campsite, places to eat or activity from my list? Let me know in the comments so I can check it out and add it to this round-up!
Love it? Pin it!