Did you know that Norfolk is the fourth largest county in England but is 25th in terms of population? Norfolk's long 84 miles of North Sea coast and its eastern location, not on the way to anywhere else, give the county its unique and slightly isolated feel.
If you like windswept beaches, huge skies, mesmerising Fens and meandering rivers and Broads, then Norfolk has all that in abundance. Along with historic towns and cities and traditional seaside resorts, Norfolk is well worth the journey.
RELATED POST: The Ultimate Local's Guide to Norfolk England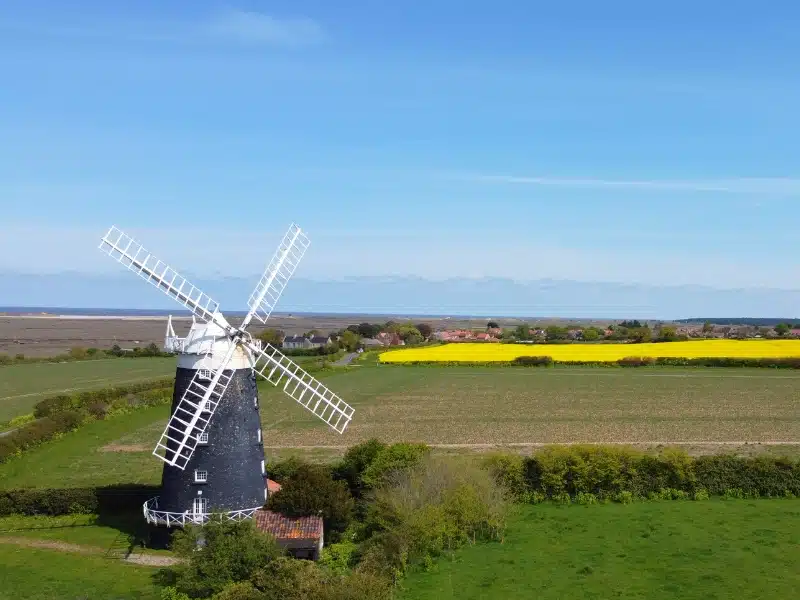 This post may contain affiliate links. If you book something I recommend, I make a small commission without affecting the price you pay!
If you're looking for Norfolk in Jamaica, or one of the seven places named Norfolk in America, the most famous being Norfolk West Virginia, you're in completely the wrong place! This article is about the county of Norfolk England in the United Kingdom of Great Britain and Northern Ireland.
Which Part of England is Norfolk?
Norfolk (pronounced nor-fuhk) is a low-lying county in East Anglia in the east of southern England. It has borders with Lincolnshire to the west, Cambridgeshire to the west and southwest and Suffolk to the south. Its northern and eastern boundaries are the North Sea coast, including the Wash.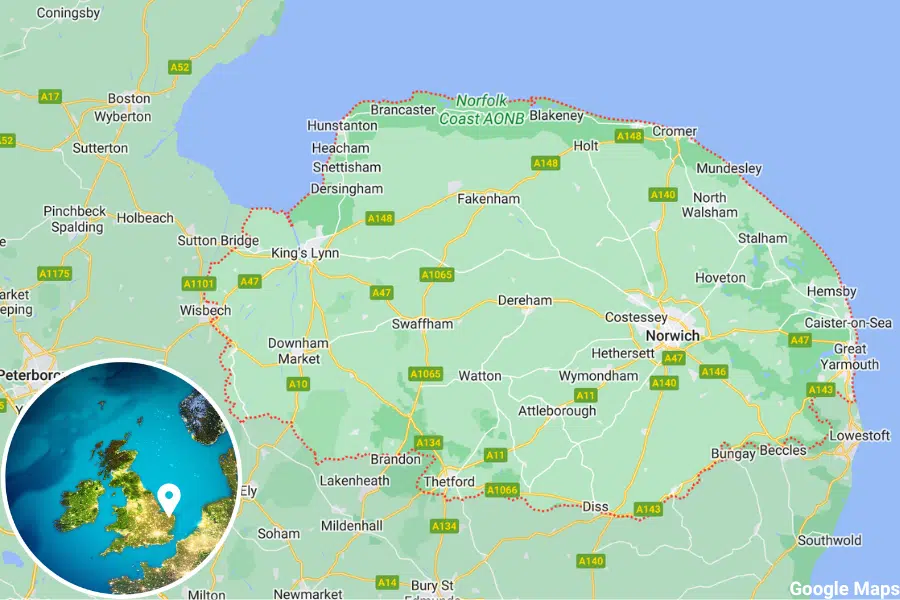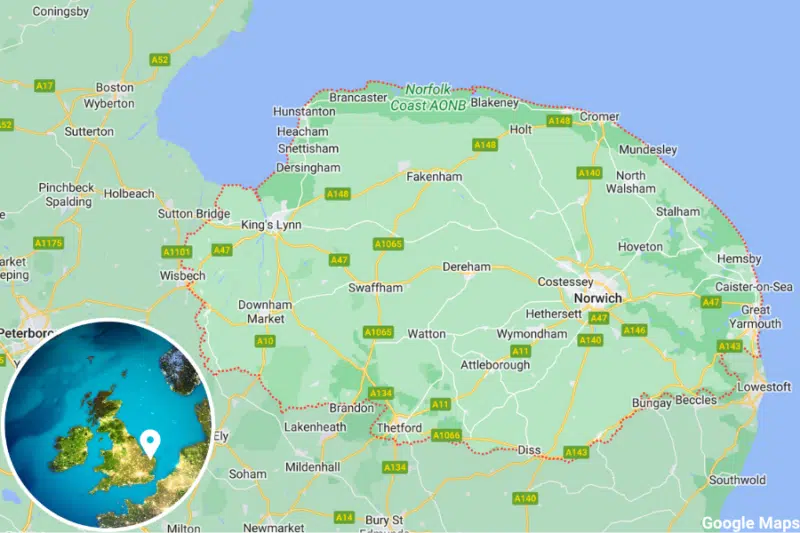 Norfolk UK is an administrative and historic county run by Norfolk County Council. Both historic and adminisrative areas are almost coincident, but a small part of the borough of Great Yarmouth belongs to the historic county of Suffolk.
Norfolk is then sub-divided into seven districts, boroughs and city councils – surprisingly there is no East Norfolk!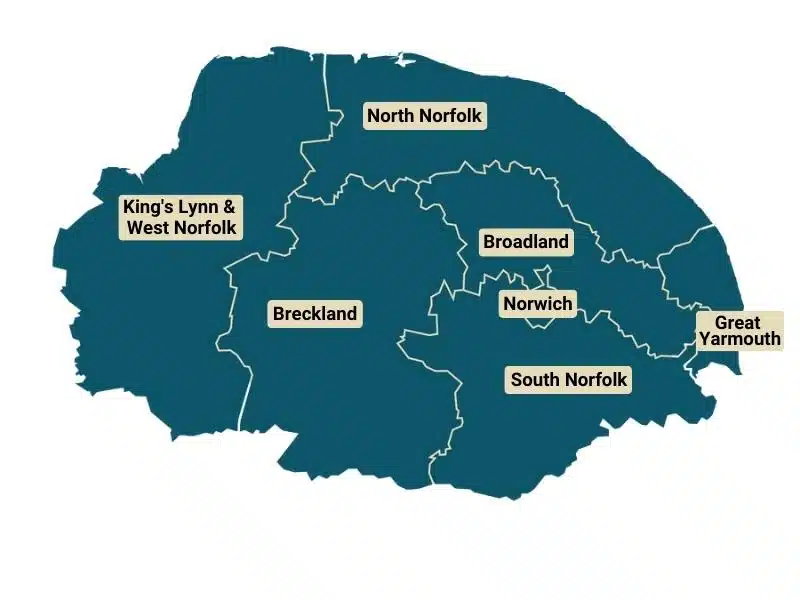 Breckland
The landscape known as Breckland straddles both Norfolk and Suffolk and is a 39,433-hectare Special Protection Area which overlaps with the 7,544-hectare Breckland Special Area of Conservation.
As a landscape region, it is an unusual natural habitat of England and comprises gorse-covered sandy heath. An area of considerable interest for its unusual flora and fauna, Breckland is one of the driest areas in England.
The area of Breckland has been substantially reduced in the twentieth century by the impact of modern farming and the creation in 1914 of Thetford Forest. However substantial areas have been preserved, not least by the presence of the British Army on the Stanford Battle Area.
The Breckland landscape region has given its name to the Norfolk administrative district of Breckland which contains most of Norfolk's portion of the Breckland, and whose county town is Dereham.
RELATED POST: 19 Top Things To Do in Thetford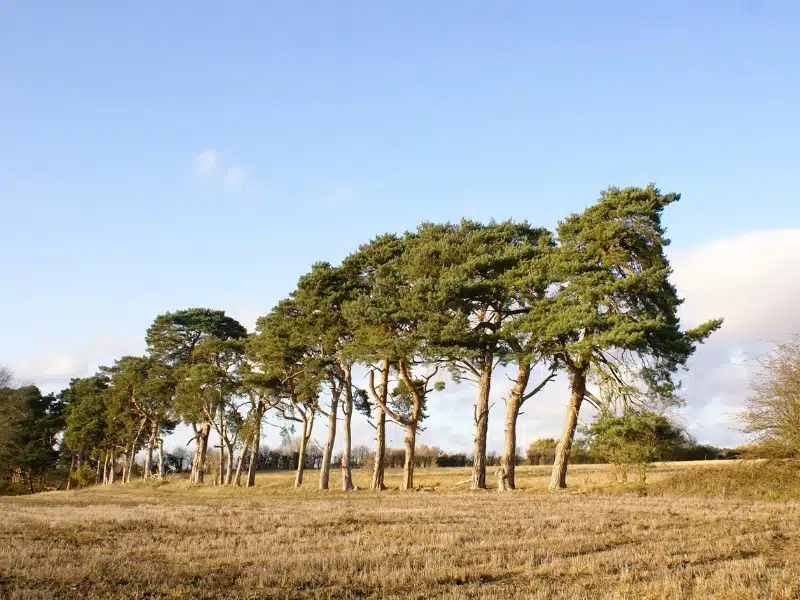 Broadland
Home to the Norfolk Broads, one of the county's major visitor attractions, Broadland is known for its peaceful and gentle way of life. The administrative centre and Broadland District Council is based in Thorpe St Andrew.
The Norfolk Broads are actually shallow lakes formed in medieval times when peat was dug out for use as fuel. The Broads were formed over centuries as water levels rose and the peat diggings flooded.
Today, Britain's largest protected wetlands and third-largest inland navigation area are encapsulated in the Broads National Park, and are home to over 125 miles of navigable waterways, and over a quarter of the UK's rarest plant and animal species.
The Broads is made up of seven rivers (River Waveney, Bure, Chet, Ant, Thurne, Yare and Wensum which runs through Norwich) and 63 broads, mostly less than 4 metres (13ft) deep, thirteen of which are generally open to navigation.
Broadland is also home to two of Norfolk's biggest family attractions – BeWILDerwood in Hoveton and ROARR Dinosaur Adventure Park in Lenwade.
RELATED POST: 26 Exciting Things To Do On the Norfolk Broads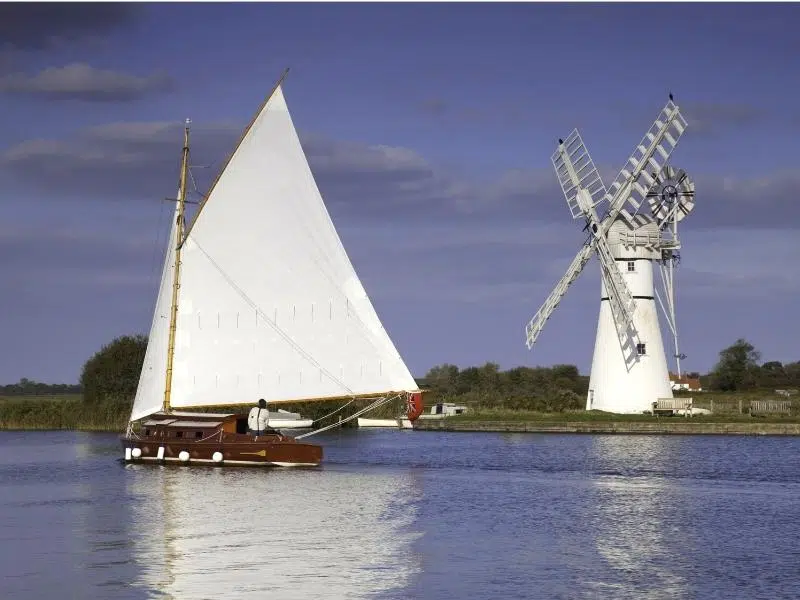 Great Yarmouth
The borough of Great Yarmouth starts just south of Horsey and stretches for 15 miles south along the coast to Hopton-on-Sea and the border with Suffolk, and inland as far west as Clippseby in the north and Fritton in the south. To the east is the North Sea.
Great Yarmouth Borough Council encompasses Winterton-on-Sea, Caister-on-Sea, Great Yarmouth and Gorlseston-on-Sea and is headquartered in Hall Plain in Great Yarmouth.
The town of Great Yarmouth stands on a sandbank across the mouth of Breydon Water, which is formed by the River Yare, River Bure, and River Waveney. Along with the other seaside resorts in the district, this Norfolk region has well over 100k visitor beds, making it a huge holiday destination.
In ancient times the area was sea with Roman coastal forts at Caister-on-Sea and Burgh Castle although the latter is now several miles inland! By Saxon times a sandbank had accumulated and was populated, and in 1208 King John granted Great Yarmouth its charter.
RELATED POST: 13 Exciting Things To Do in Great Yarmouth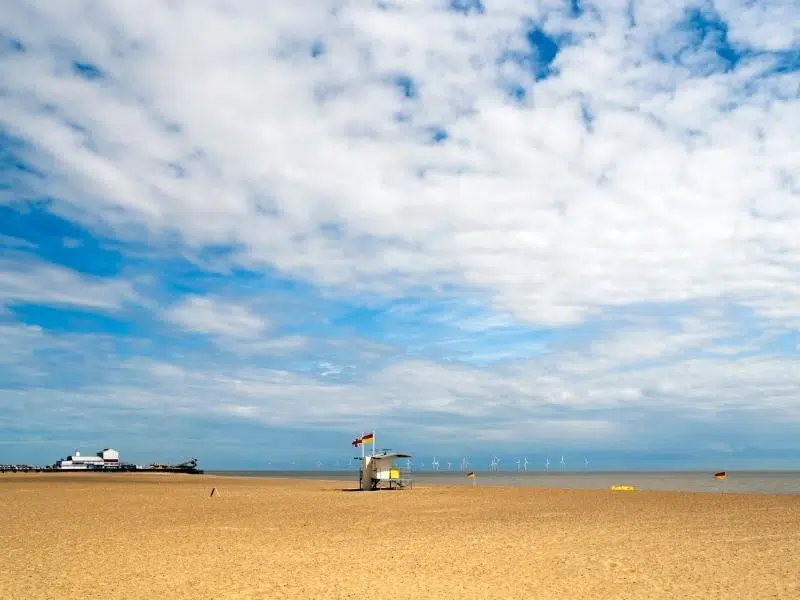 King's Lynn and West Norfolk
Originally known as West Norfolk, the region became the Borough Council of King's Lynn and West Norfolk in 1981. The borough comprises King's Lynn and the entire west coast of Norfolk from the Wash to Holkham and reaching inland to the east almost as far as Fakenham.
This district rivals North Norfolk for beaches, including Heacham, Holme and Brancaster and nature reserves such as Scolt Head Island and RSPB Titchwell Marsh.
There is also an abundance of castles – Castle Rising and Castle Acre being Norfolk's most famous, and stately homes for visitors, including the royal's favourite, Sandringham.
Hunstanton is the primary seaside town, Burnham Market a popular tourist spot and Downham Market a lesser visited historic market town on the edge of the wild and windswept Fens.
RELATED POST: 28 Best Things to Do in King's Lynn & West Norfolk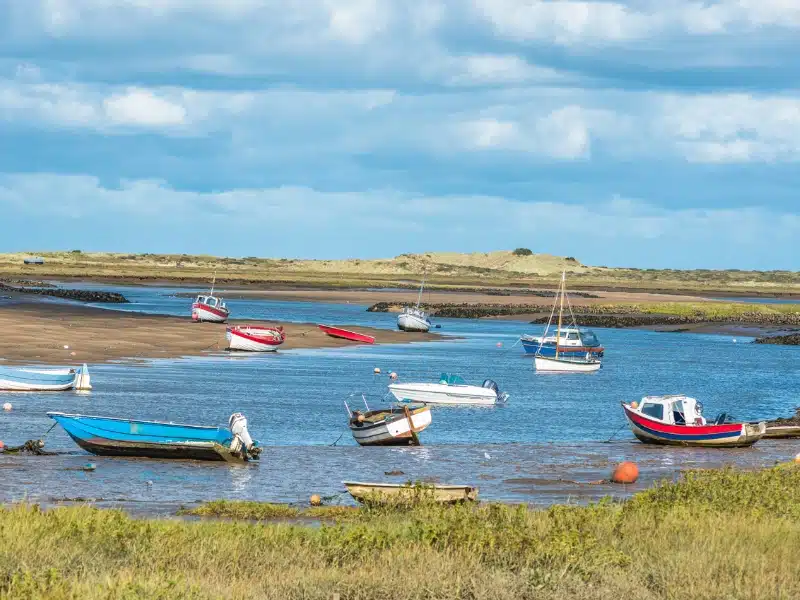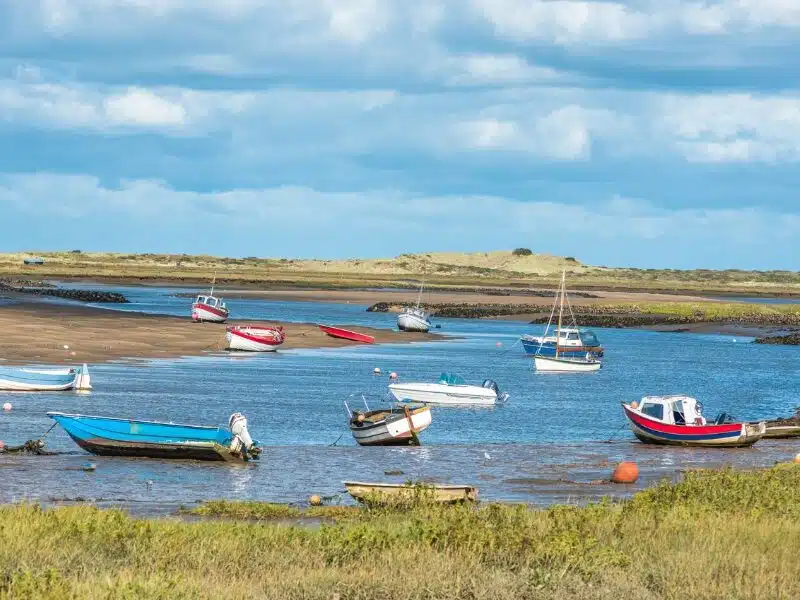 North Norfolk
The most well-known and most visited of Norfolk's districts, North Norfolk boasts the stunning North Norfolk coast and many of the county's best seaside towns and villages. North Norfolk District Council is headquartered in Cromer, a traditional Victorian seaside resort.
Known for its vast sweeping beaches like Holkham and the UK's largest seal colony at Blakeney Point, its coastal nature reserves and its abundance of visitor attractions, North Norfolk is a popular holiday destination. The trio of Norfolk stately homes – Holkham Hall, Felbrigg Hall and Blickling Hall – just add to the diverse nature of this special part of the county.
The Norfolk Coast Path passes through North Norfolk and the Area of Outstanding Natural Beauty which stretches from the Wash in the west to Winterton-on-Sea in the east and encompasses the Norfolk Heritage Coast and the Deep History Coast, where the evidence of England's first visitors was found on Happisburgh Beach.
RELATED POST: Best of the North Norfolk Coast: 20 Unmissable Highlights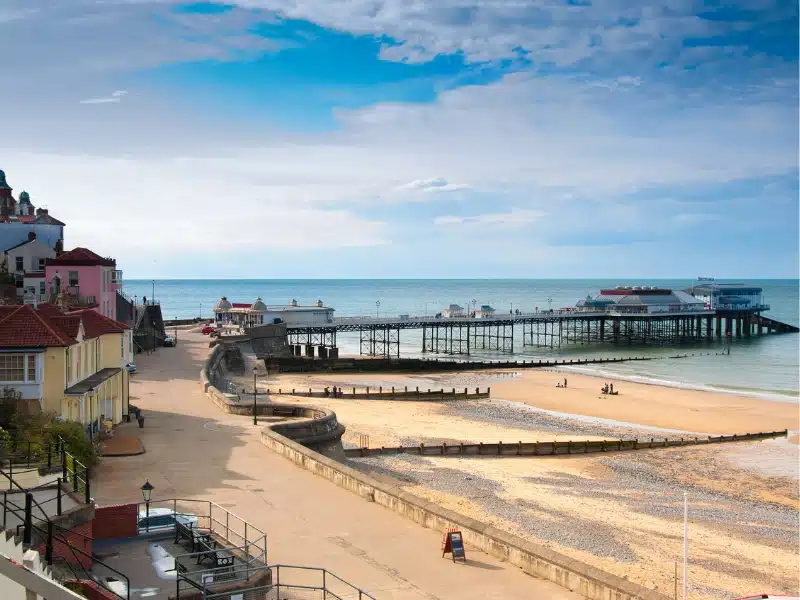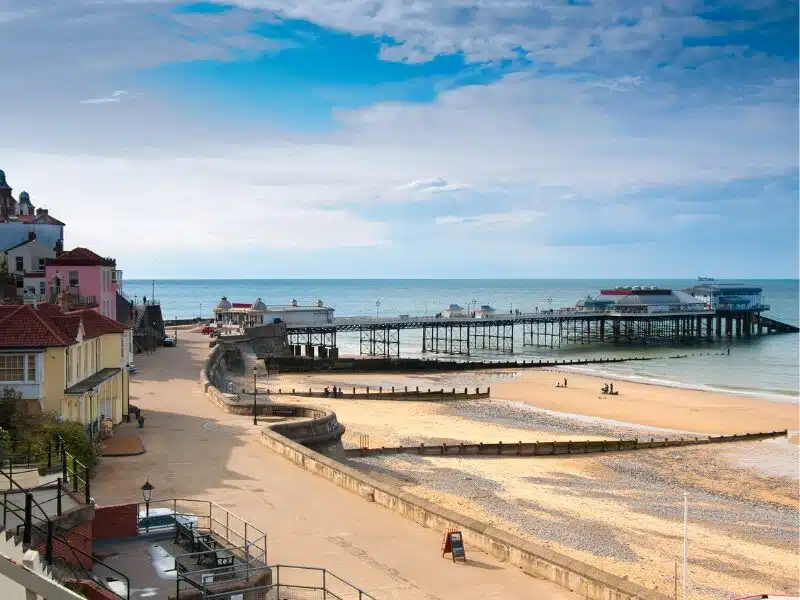 Norwich
The capital and only city in Norfolk is a non-metropolitan district with city status managed by Norwich City Council, which is based in the 1938 Art Deco City Hall in Norwich.
Known as the 'city of stories' Norwich is the most complete medieval city in the United Kingdom today. Home to pretty cobbled streets lined with buildings from the Middle Ages, half-timbered houses, elegant Norwich Cathedral, Norwich Castle and the River Wensum that flows through the city centre, Norwich is a fabulous tapestry of history, architecture and literature.
Add to that the focus on culture and the arts, the flourishing foodie scene, the beautiful Norfolk landscape that surrounds the city and an excellent mix of quirky independent boutiques and high street favourites, it's easy to see why Norwich is one of the most popular small cities in England.
RELATED POST: 32 Amazing Things To Do in Norwich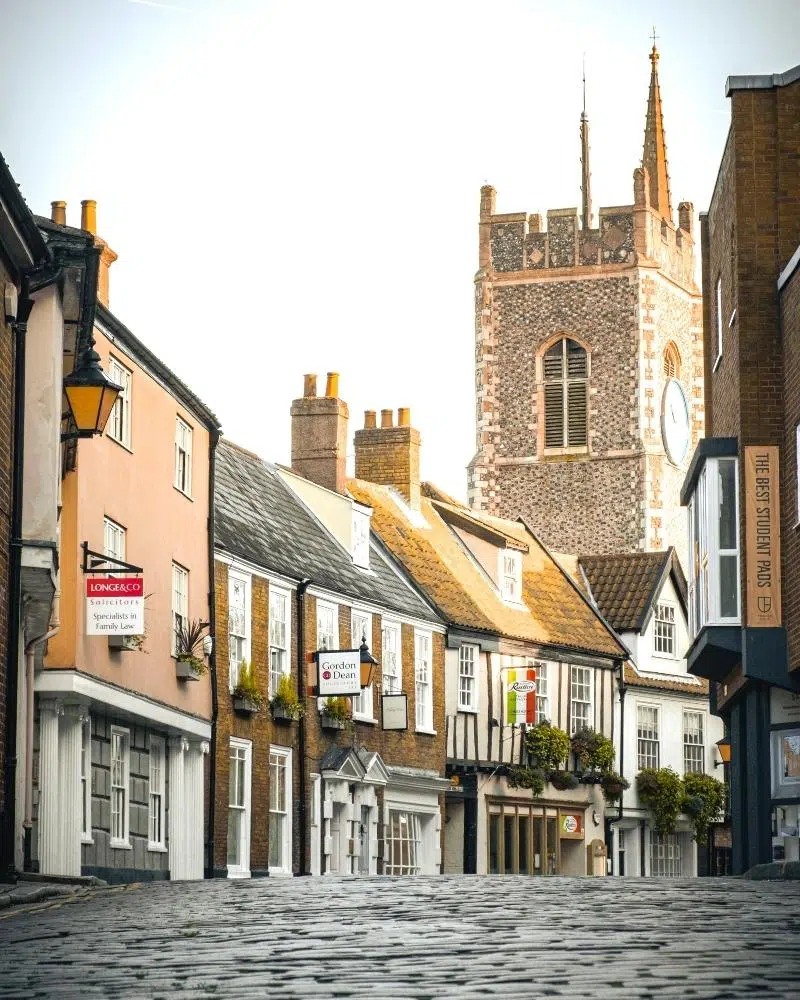 South Norfolk
South Norfolk is a mainly agricultural district extending across low-lying open countryside boundaried to the south by the River Waveney. South Norfolk Council was based in Long Stratton but since early 2023, the council has been based at Thorpe St Andrew near Norwich, where it shares facilities with Broadland District Council.
South Norfolk has some of the counties most scenic and peaceful countryside, with hedgerow-lined lanes, thatched cottages, welcoming pubs and chocolate box villages and market towns, including Diss, Harleston, Loddon and Attleborough.
RELATED POST: Wymondham: A Window to Norfolk's Past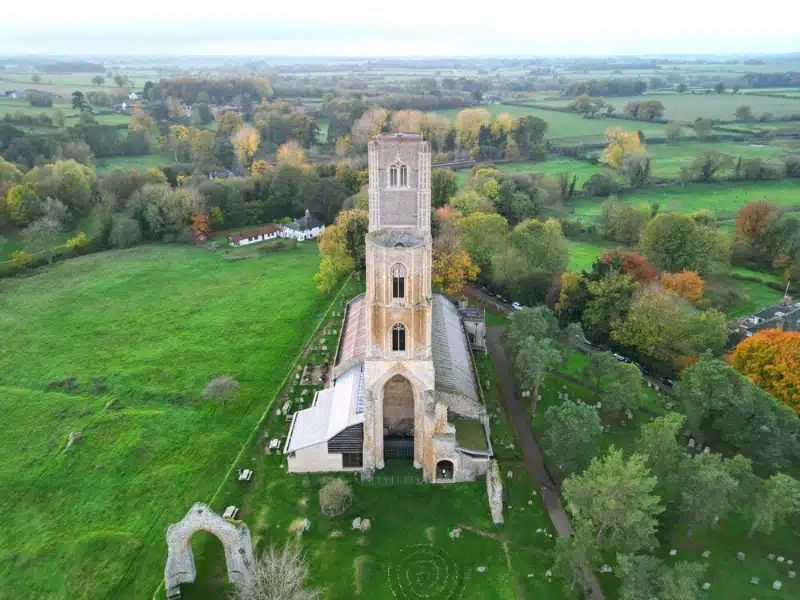 Being Flat
Everyone thinks Norfolk is as flat as a pancake, and parts of it are! The Fens and Broads are both fairly level, but there are plenty of areas where the landscape gently undulates, and on the northeast Norfolk coast, there are even cliffs!
Beacon Hill, not far from Sheringham, is the highest point in Norfolk with its summit at 105 metres (344ft) above sea level on the Cromer Ridge, giving you an incredible view of the North Norfolk coastline.
RELATED POST: 23 Amazing Things To Do in Sheringham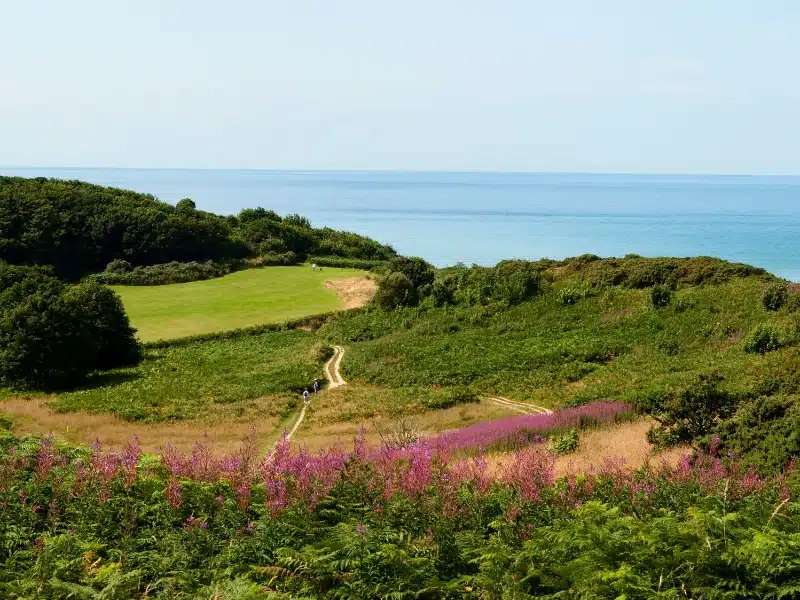 Lord Horatio Nelson
"I am a Norfolk man and glory in being so" said Admiral Lord Nelson, undoubtedly Norfolk's most famous son. It's no surprise that Norfolk is proud to be known as 'Nelson's County'.
The Parsonage in Burnham Thorpe where Horation Nelson was born in 1758 no longer exists, but Nelson's Barn, built in its place, has a plaque set into the flintstone wall to mark the spot. Just up the road is All Saint's Church where Nelson's father was the rector, and was later laid to rest along with Nelson's mother.
Nelson learned to sail at Burnham Overy Staithe, where there is also a pub called The Hero in Nelson's honour, and he attended King Edward VI's Grammar School in Norwich.
There is even a long-distance walk, the Nelson Way, which travels 404 miles through Norfolk to HMS Victory, Nelson's flagship in the Battle of Trafalgar and where he was fatally shot in 1805, at the wonderful Portsmouth Historic Dockyard.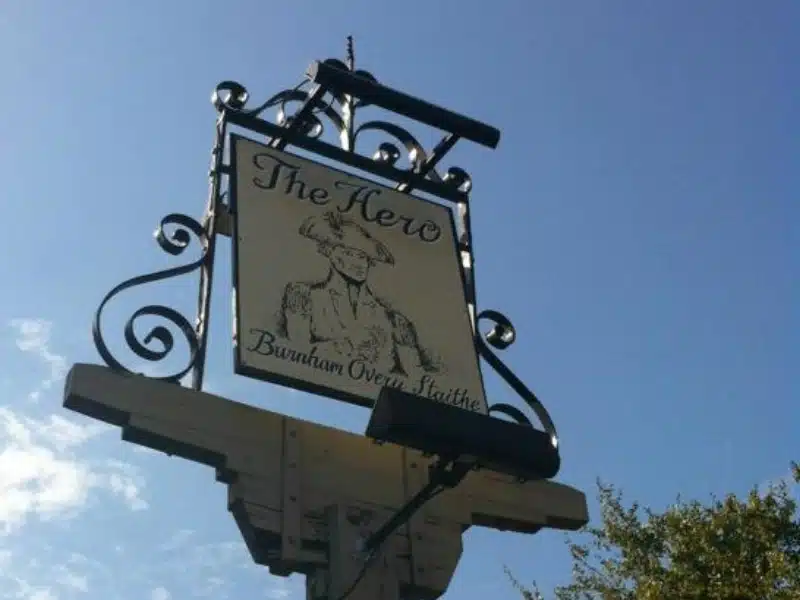 Norfolk Broads
The unique Norfolk Broads are an Area of Outstanding Natural Beauty, and a unique network of navigable rivers and lakes which meet the Norfolk coast, to create a diverse landscape, perfect for an exciting outdoor holiday or trip.
Whether you want an adventure on the miles of tranquil waterways and to hike and cycle the local trails, or explore the rich Broads history and visit local theme parks and farms, the Norfolk Broads really does have it all!
RELATED POST: A Local's Guide to the Norfolk Broads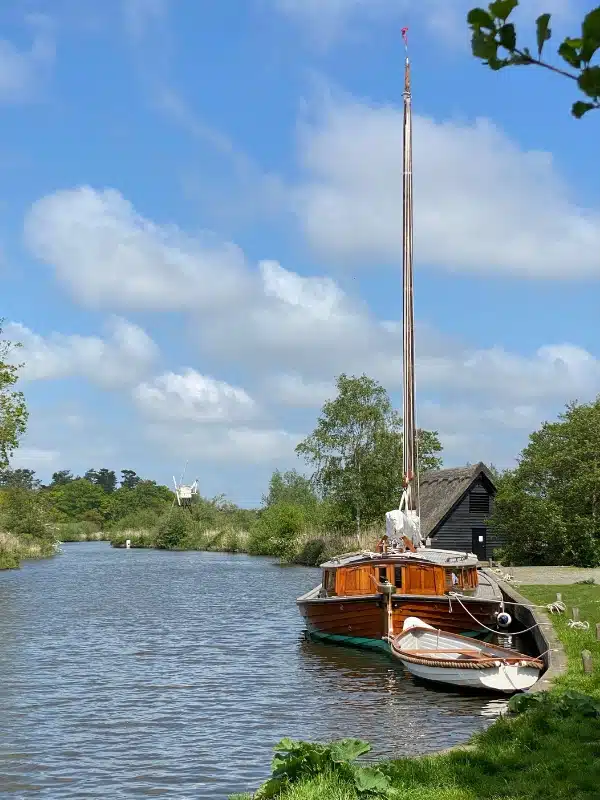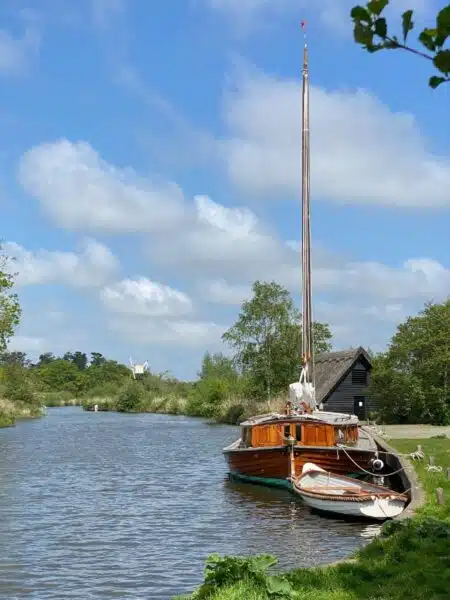 Coleman's Mustard
In the early 1800s, Jeremiah Colman began making mustard at a water mill near Norwich. His blend of brown and white mustard was so successful that he founded Colman's of Norwich in 1814 at Stoke Holy Cross mill on the River Tas. By 1865, the business had become J.J. Coleman and was producing mustard at a large factory on Carrow Road.
The distinctive yellow packaging was introduced in 1855 and in 1866 Coleman's was granted the Royal Warrant as manufacturer of mustard to Queen Victoria. After 160 years the last jar of Norwich-made Coleman's mustard rolled off the production line on 24th July 2019.
You can eat at the restaurant that is now in Stoke Mill, where the first Coleman's mustard was developed, or find out more about Colemans' history at The Museum of Norwich at the Bridewell, but there is sadly no legacy of Coleman's Mustard left in Norwich.
RELATED POST: 26 Norfolk Food & Drink You Must Try!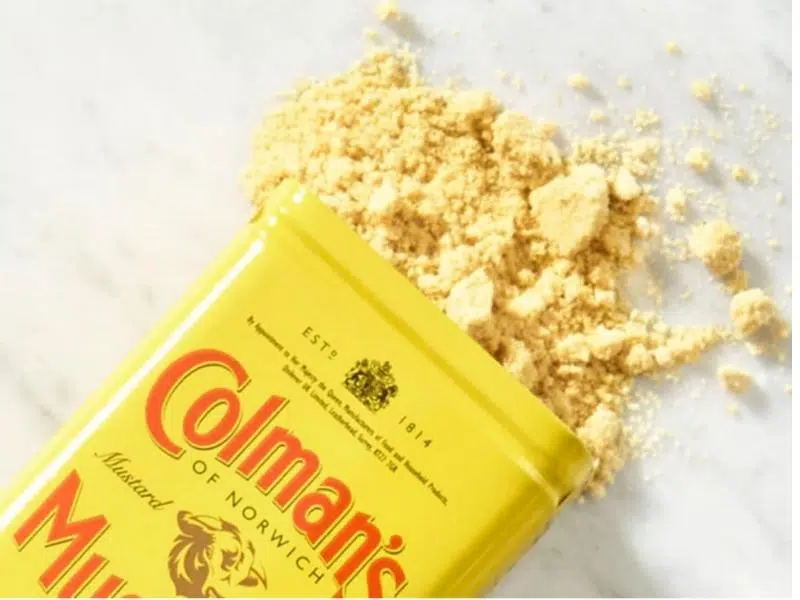 Birdwatching
Norfolk's variety of different types of habitat makes it a birdwatching hotspot, with enthusiasts drawn from all over the country to its famous nature reserves, including Snettisham, Welney, Titchwell and Cley to name just a few.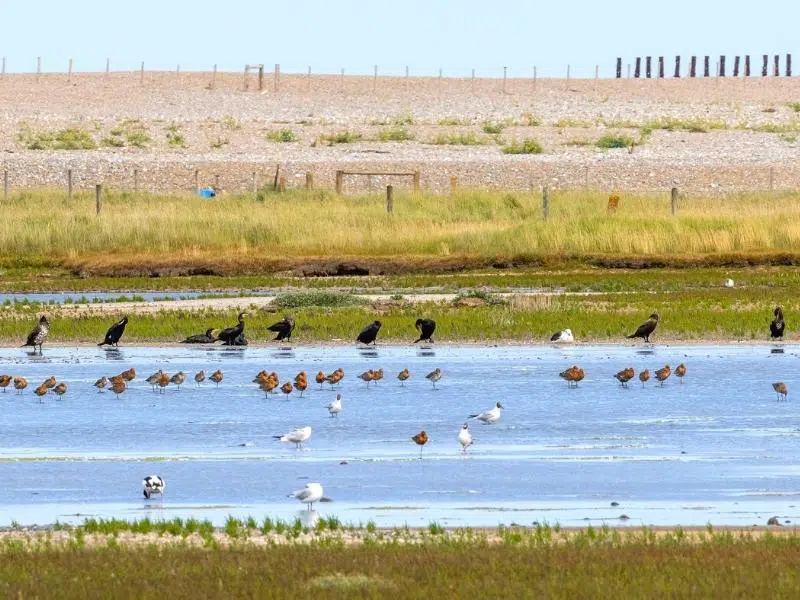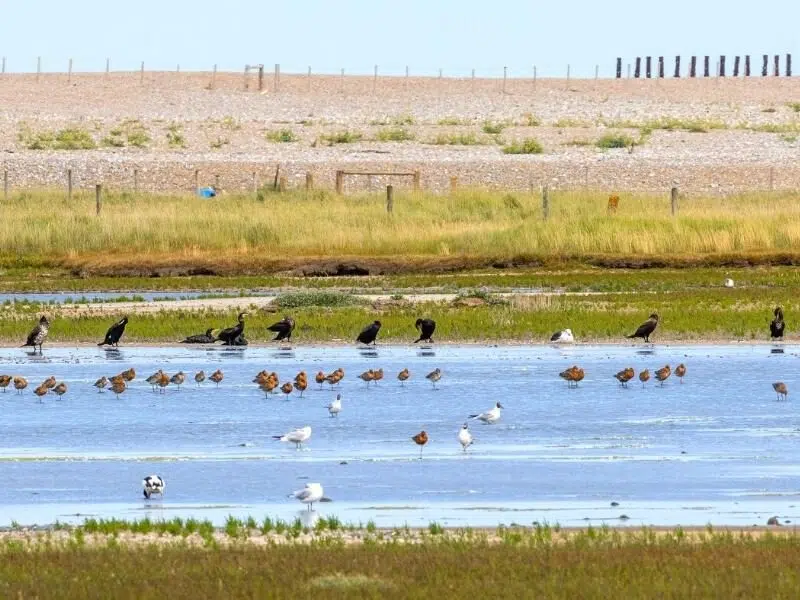 Beaches
With some of the best beaches in the UK along its glorious 84 miles of coastline, from fine golden sand to nature-filled marshes and mud flats, Norfolk's beaches are one of the reasons visitors flock to the county.
Whether you want the bucket and spade sands and colourful beach huts of Wells-next-the-Sea, the empty and remote Burnham Overy Staithe beach or the hustle and bustle of Hunstanton's three beaches, you're in the right place!
RELATED POST: Norfolk Beaches – Ultimate A-Z Guide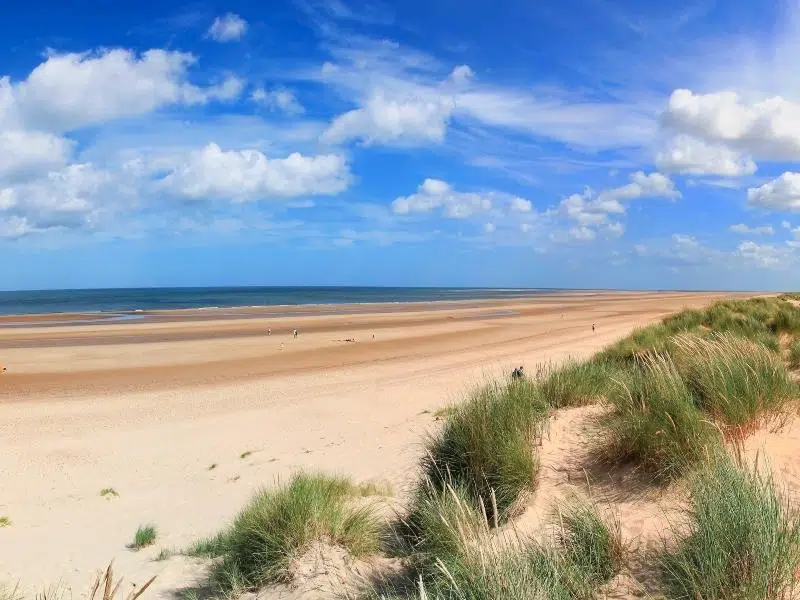 Cromer Crab
Full of flavour and sweeter than other crabs, the Cromer crab is Norfolk's star food item. The juicy flesh and unique flavour make these crabs a Norfolk delicacy.
The best restaurant in Norfolk for Cromer crab is Rocky Bottoms in West Runton, between Sheringham and Cromer. The restaurant is run by a local fishing family who produce many Norfolk dishes using not only Cromer crab but local lobster, Brancaster mussels, Stiffkey Cockles and fish too. You can also buy dressed and prepared crab at the Crab Hut to take home.
RELATED POST: Cromer Crab: All You Need to Know About Norfolk's Favourite Food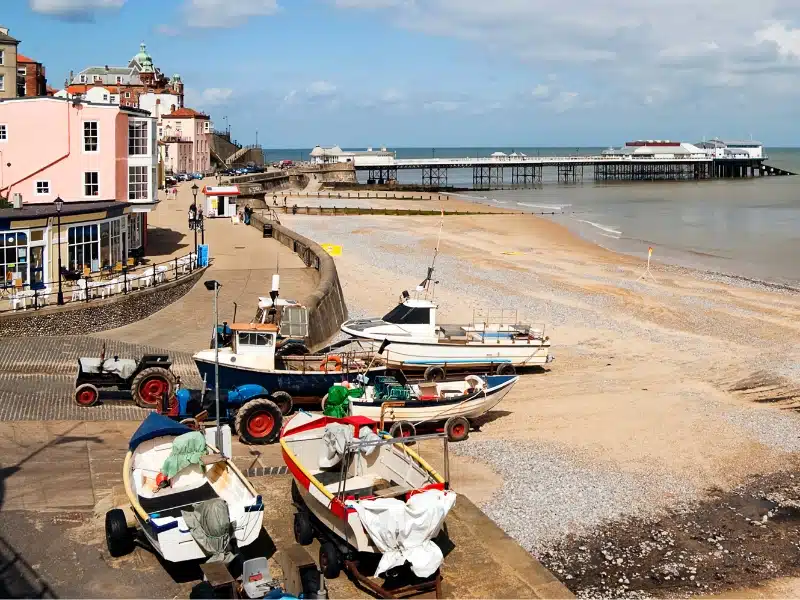 Wind Pumps
Norfolk's windmills and wind pumps were built to help local millers grind corn and to provide power for water pumps on the Broads. Today there are at least 63 still standing, many of which are Scheduled Ancient Monuments or listed buildings.
From ruins to fully restored mills with sails, these iconic buildings are an intrinsic part of the Norfolk landscape and are also incredibly photogenic.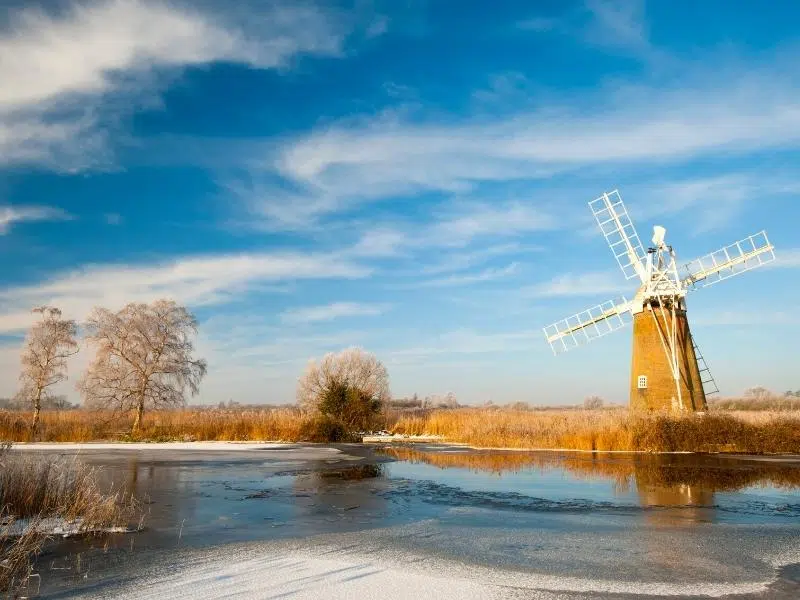 Love it? Pin it!