Welcome to my local's guide to the best places to eat in Sheringham. This lively seaside town in North Norfolk is bursting with great restaurants, pubs and cafes.
Locally caught crab and lobster are the foodie star performer here, along with a handful of good quality restaurants, fantastic cafes and a couple of quirky options!
My family live in Norfolk and have spent decades watching the Norfolk food scene flourish and grow – they know all the best places to go and share recommendations and tips, and I've rounded up the top sixteen places to eat in Sheringham.
Whenever I visit Norfolk, I check them out with my family, so this really is a local's guide of where to eat in and around Sheringham…
RELATED POST: The Ultimate Local's Guide to Norfolk England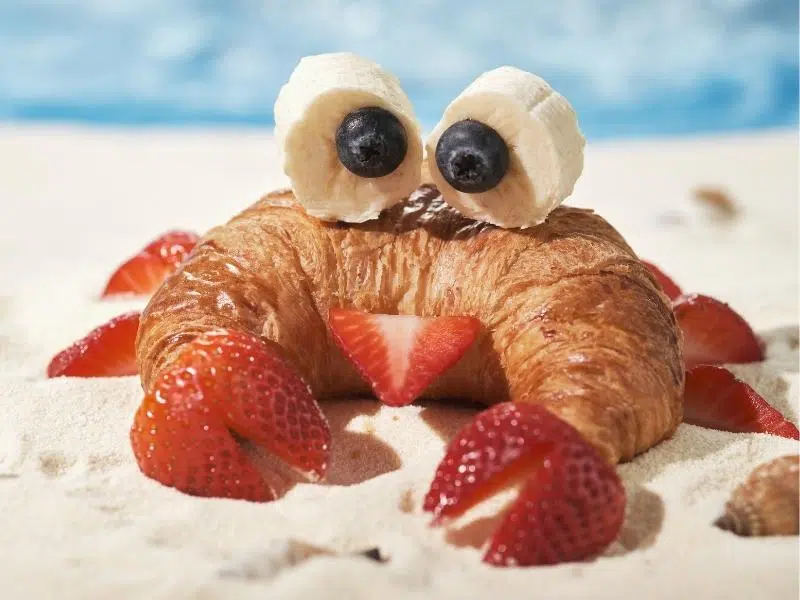 This post may contain affiliate links. If you book something I recommend, I make a small commission without affecting the price you pay!
The Best Sheringham Restaurants
Marmalade's Bistro
Dinner
Run by Sheringham local Sarah and husband Ian, Marmalade's Bistro is intimate and charming, with a focus on home made and cooked to order cuisine, using locally sourced ingredients and seasonal produce. This is reflected in the menu, which changes regularly to showcase the best of Norfolk food.
The menu is simple, with a handful of starters and mains, creating a well-rounded offering. The star of the show for me was the slow cooked rump of Felthorpe lamb, which was melt in the mouth delicious, and perfectly cooked.
Desserts include a Norfolk cheese plate and Norfolk ice cream, alongside the inventively named 'Sheringham sink hole' vanilla cheesecake.
Service is excellent – attentive but not overbearing. Make sure to book in advance, often reviewed as one of the best restaurants in Sheringham, it can get busy.
5 Church Street, Sheringham NR26 8QR
RELATED POST: 23 Amazing Things To Do in Sheringham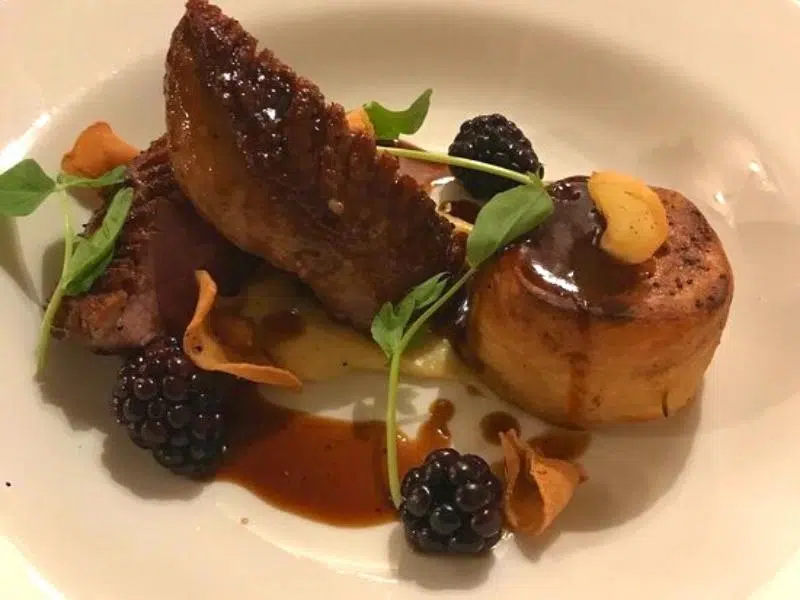 No. 10 Restaurant
Lunch | Dinner | Sunday Brunch
No. 10 Restaurant, run Sonya & Mustapha, is a place to eat in Sheringham for both local people and visitors, with a menu designed around seasonal produce which is sourced locally.
Whether you're planning lunch, dinner or enjoying their fantastic Sunday brunch, you can be sure you'll be sampling the very best that Norfolk has to offer – from Morston mussels to Aberdeen Angus beef from Upper Sheringham.
They also have an excellent wine list, which offers some of the best whites & reds from around the world, chosen to accompany their seasonal menus perfectly.
Intimate and cozy, this is a British restaurant in Sheringham where food and service are done equally well, making it a must visit when you're in the area.
10 Augusta Street, Sheringham NR26 8LA
RELATED POST: Six Vineyards in Norfolk You Need to Know About!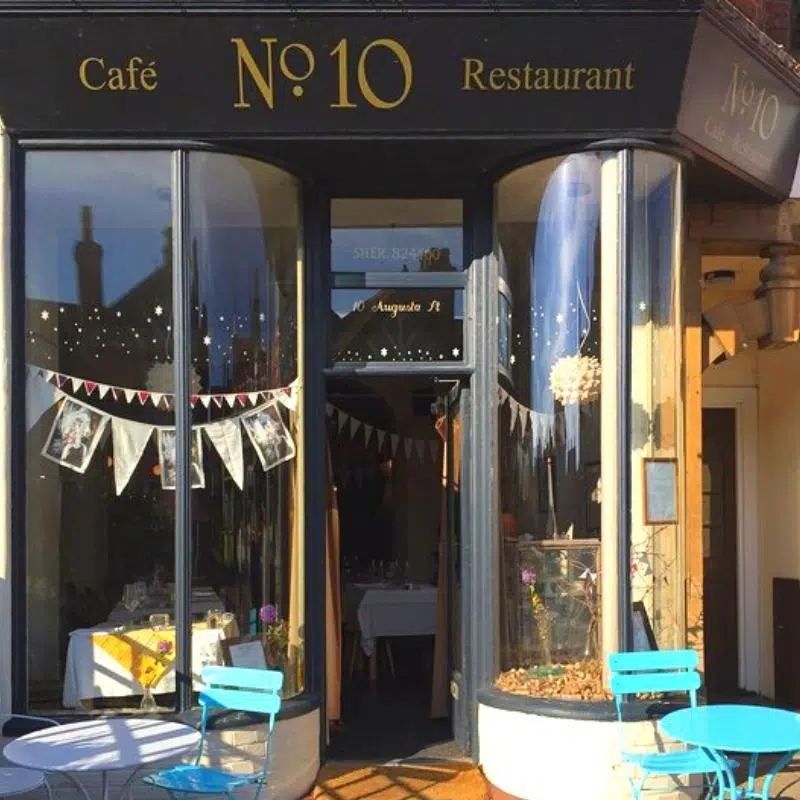 The Bank Restaurant
Lunch | Dinner
This is the perfect antidote if you're all crabbed or fish and chipped out! Serving really good, authentic Nepalese and Asian food, the The Bank is super-popular amongst Sheringham locals in the know.
Set in the form Lloyds Bank building, The Bank offers a light, modern and airy environment – you can even see the old safe which has remained in situ!
I'm not a Nepalese food expert, but I've eaten a couple of curries here and they have both been delicious, delicately spiced and flavoursome.
The staff are friendly and happy to explain about the different dishes if you're new to Nepalese flavours, and there is also a full range of traditional Indian curries. If you're looking for something different, this is the place to go!
7 Church Street, Sheringham NR26 8QR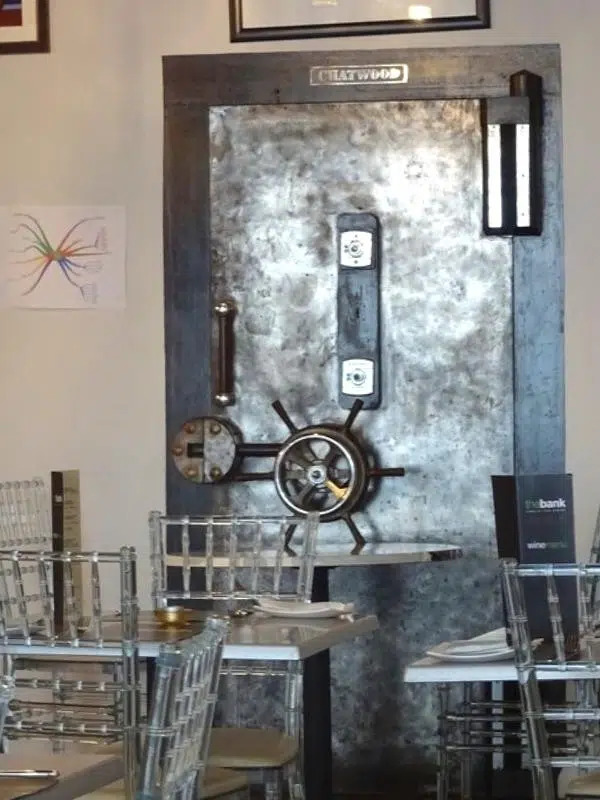 Upchers Restaurant at The Dales Country House Hotel
Lunch | Afternoon Tea | Dinner
With a wood panelled dining room, traditional linen tableclothes and sparkling glassware, Upcher's Restaurant at The Dales country house hotel is the traditional choice, making it the perfect place for a celebratory meal or special occasion.
The all day menu offers a good selection of light bites, ciabattas and good old-fashioned English fare, such as fish and chips and burgers. On Sunday's a traditional roast is available all day – booking is advisable as it's pretty popular.
The a la carte menu offers contemporary English dining with a twist and has a few highlights. A starter of scollops with chorizo, sticky pork belly, caramelized apple gel and compressed apple is a real treat for the tastebuds, whilst local produce like Norfolk beef, Cromer crab and lobster take pride of place in the mains.
If the dining room is too formal for you, dine in the bar, library or alfresco in the beautiful gardens.
Lodge Hill, Upper Sheringham NR26 8TJ
RELATED POST: What's On in Norfolk – 70+ Dates for Your Diary in 2022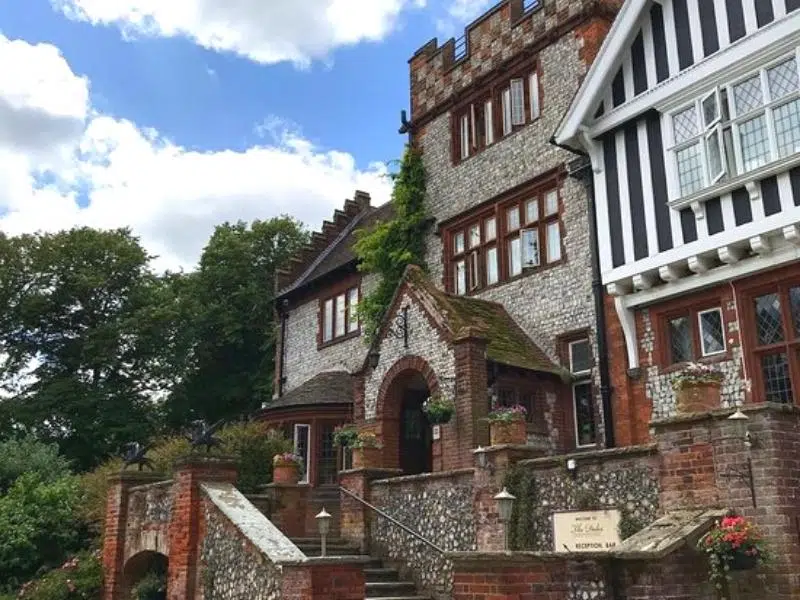 Fat Ted's Streat Food
Lunch | Dinner
Award winning Fat Ted's Streat Food is a takeaway food stall extrodinaire. In Barcham's Yard, just off the High Street, Fat Tead's serve from a hut, with a few tables and benches where you can sit and enjoy your food.
Described as "a multi-cultural explosion of aromatic, homemade flavours and ingredients packed into mouth-watering street eats of all delicious dimensions", I can absolutely vouch for the flavour and quality of their food which is innovative and bursting with flavour, including their skin on dirty fries, loaded with cheese – heaven!
It's no surpise that Ted's get's super busy in summer, as it always has amazing reviews. Plan to arrive a little bit before you want food, or pre-order online for a specific time, to prevent hanger striking!
Barcham's Yard, High Street, Sheringham NR26 8JS
RELATED POST: North Norfolk Coast – 19 Unmissable Highlights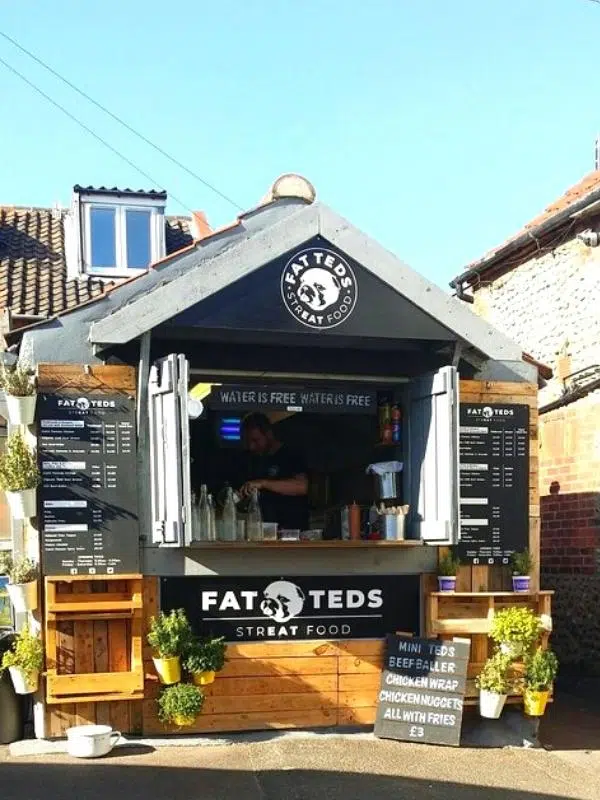 The Best Sheringham Pubs
Two Lifeboats
Lunch | Dinner
Named after the Augusta & Duncan lifeboats that rescued a crew of eight from the wreck of the Norwegian ship Caroline in December 1882, the Two Lifeboats is traditional British pub with a wonderful sea view and a friendly welcome.
The menu is extensive and packed with traditional pub grub like gammon steak, chilli con carne, lasagne, curry and of course, Sunday lunch. Don't expect posh, but you'll get good quality food, generous portions and great service.
Two Lifeboats is also dog friendly and well behaved pooches are welcome in the bar and restaurant. Beds, water, nibbles and even a doggy menu are available – making it the perfect spot after a good beach walk.
2 High Street, Sheringham NR26 8JR
RELATED POST: Norfolk Beaches – Ultimate A-Z Guide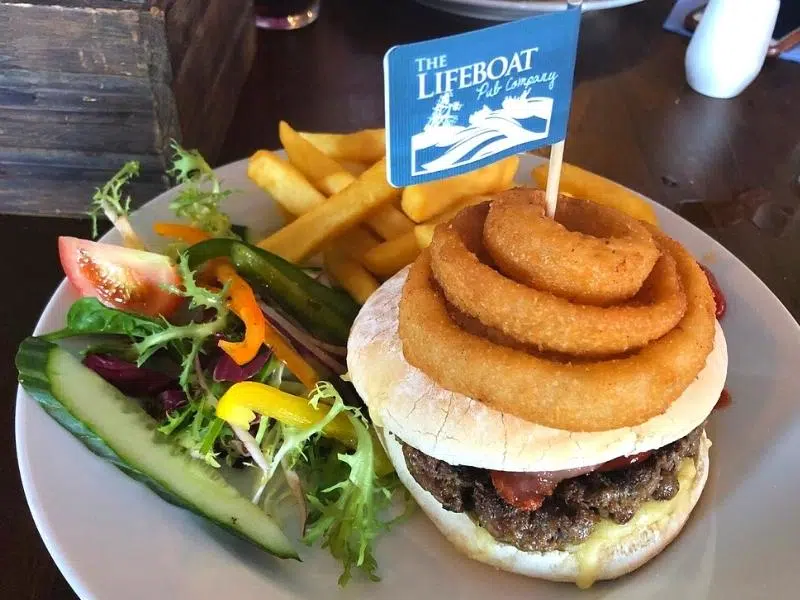 The Wheatsheaf
Breakfast | Lunch | Dinner
Just four miles from Sheringham in the pretty village of West Beckham, The Wheatsheat is a traditional countryside pub and restaurant. Quaint, rustic and definately not 'done', this is a real cracker of an inn!
Starters are presented on a daily specials board, to make the most of what's local and seasonal. Mains range from classic gastro pub offers including a very good 100% beef burger and a lovely antipasto board with charcuterie and local Norfolk cheeses.
There is a small vegetarian menu, baguettes at lunch time and on Sundays, a roast of your choice is served throughout the day.
Dog friendly, and with inside and outside seating, this is one of the best country pubs near Sheringham and a lovely spot to enjoy a meal.
Church Road, West Beckham NR25 6NX
RELATED POST: 12 Norfolk Gins You Have To Try!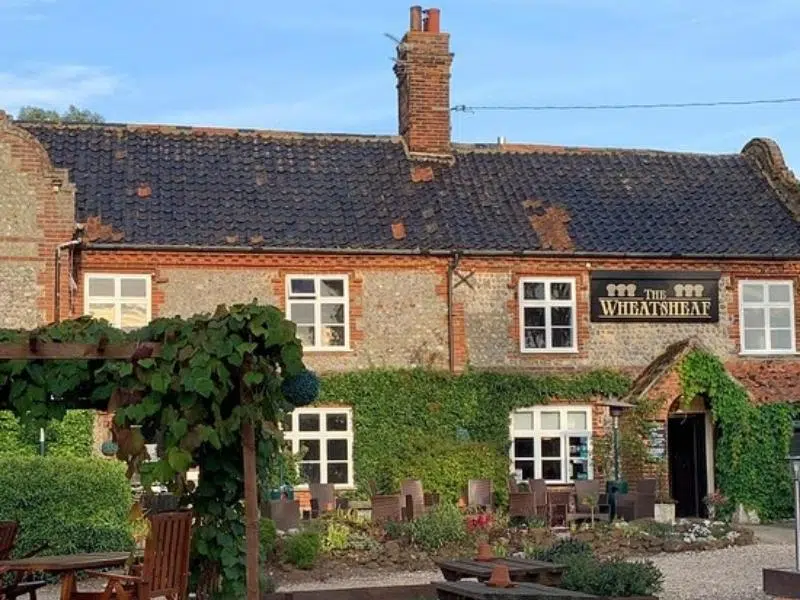 The Red Hart Inn
Lunch | Dinner
A traditional 17th century Norfolk inn, The Red Hart has held an ale licence since 1802, when the pub was known as the Red Lion.
Serving traditional pub grub such as sausage and mash, steak and haddock and chips, as well as Sunday lunch, the Red Hart is a friendly village pub, perfect for a evening with friends or family.
The Street, Bodham, Sheringham NR25 6AD
RELATED POST: 26 Norfolk Food & Drink You Must Try!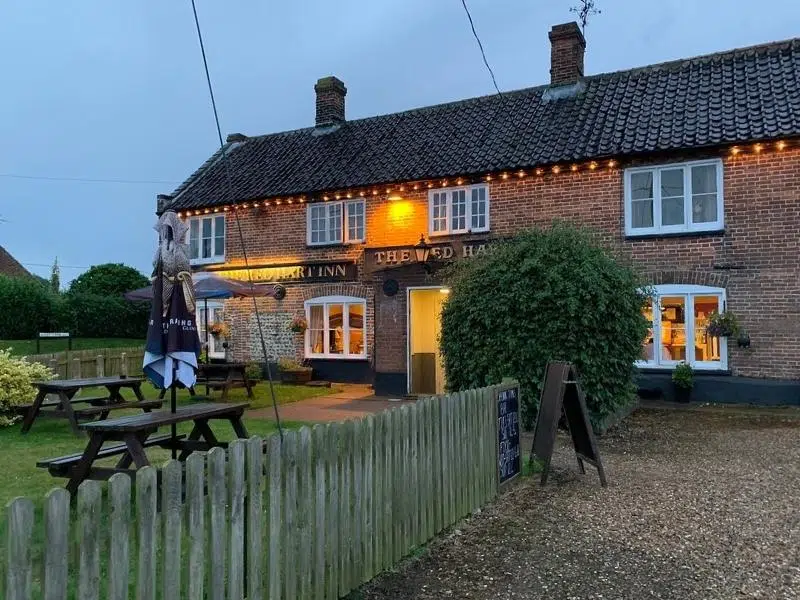 The Best Seafood Restaurants in Sheringham
Rocky Bottoms
Lunch | Dinner
The brown crab is found all around the coast of the United Kingdom, but off our stretch of coast, in the shallow nutrient rich waters on the chalk reef, Cromer crabs are sweeter and more tender than anywhere else, and are a must try if you're visiting Sheringham.
My favourite place for Cromer crab is Rocky Bottoms, which is actually in West Runton, two miles from Sheringham on the coast road east to Cromer.
This is a locally run family business, where they catch crabs using their own fishing boat, and then feed you in their restaurant.
They also serve other local delicacies like samphire which grows wild in the nearby dunes. You can also buy dressed and prepared crab at the Crab Hut to take home – yummy!
Cromer Road, West Runton NR27 9QA
RELATED POST: Restaurants in Cromer – 16 of The Best Places to Eat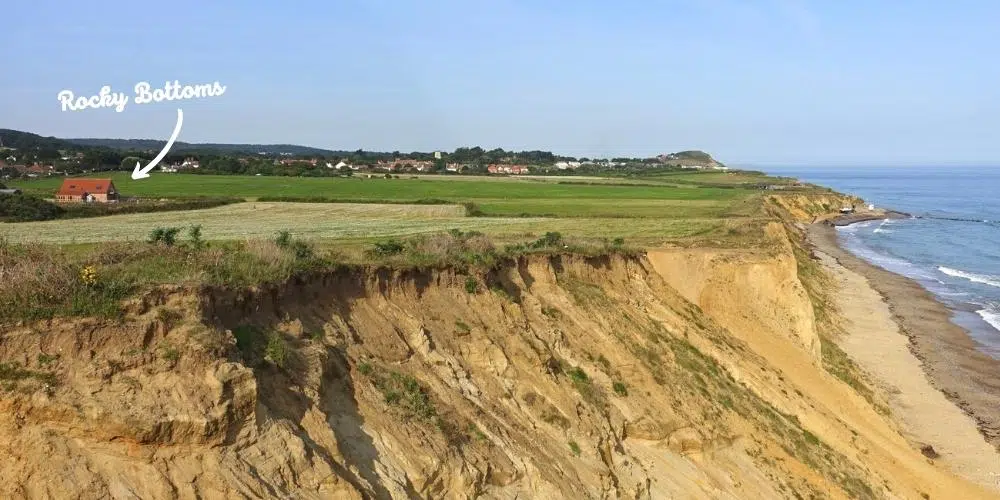 Joyful West's Shellfish Bar
Takeaway
Not a restaurant, but Joyful West's Shellfish Bar is very worthy of a mention here. Right at the top of the High Street, close to the prom, Joyful West's serves locally caught and fresh daily dressed Cromer crab and lobster, cockles and whelks, and makes their own delicious prawn or crab sandwiches.
I like to get my dressed crab, pop into Dave's the chippy (one minute away in Cooperative Street) and enjoy the juicy crab and vinegary chips sitting on the beach or seafront. You could even pop to the Sainsbury's Local just up the road for a bottle of cold lager, to make your picnic go with a pop!
High Street, Sheringham NR26 8JP
RELATED POST: 43 Norfolk Farm Shops for Amazing Local Produce!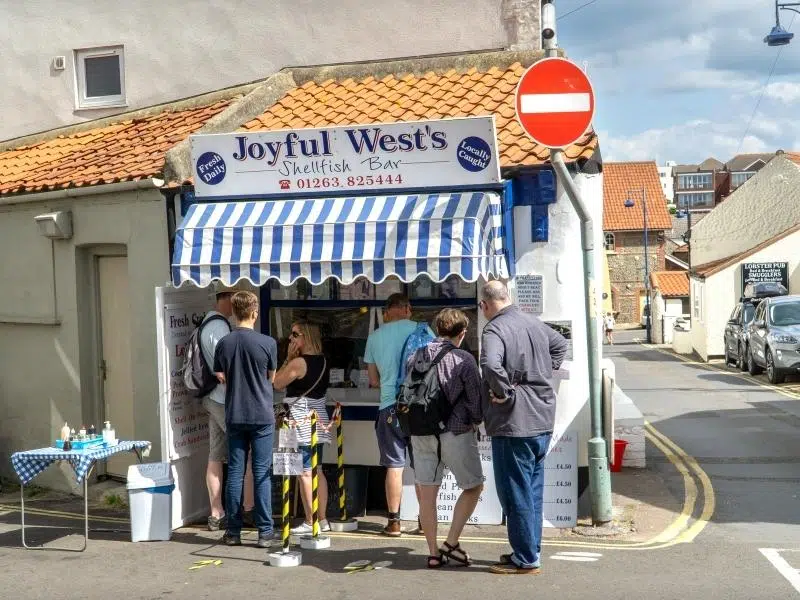 Dave's Fish Bar & Restaurant
Lunch | Dinner
A traditional chippy, Dave's Fish Bar and Restaurant does the best traditional Sheringham fish and chips, hands down!
Eat in or take away, everything is always freshly fried and the batter is light and crispy. Choose from cod, haddock, plaice, rock or scampi to go with your chips, which have that very distinct slightly soft chip shop texture and flavour – perfect!
Dave's also offers gluten free fish and chips, just ask when you order. If you want to take away, you can order in advance for collection – be aware that takeaways are cash only.
7 – 11 Cooperative Street, Sheringham NR26 8DX
RELATED POST: Best Fish & Chips Norfolk: 14 Top Places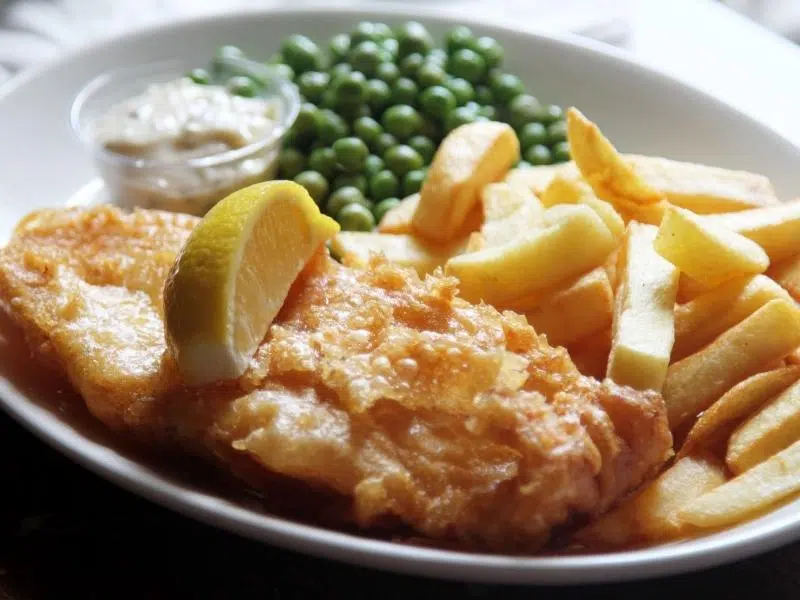 The Best Tearooms & Cafes in Sheringham
The Sitting Room
Breakfast | Lunch | Afternoon Tea
A bit of a hidden gem in Sheringham, The Sitting Room, is a friendly and welcoming cafe-come-restaurant (with a licence) which serves all the usual cafe offerings as well as a fantastic breakfast and great light lunches, including paninis, salads and toasted sandwiches.
They do things a bit differently here too, so don't expect chips or microwaved jacket potatoes. Instead, you'll find a passion for locally sourced ingredients, supporting the Sheringham community and reducing food miles, along with food of the highest quality.
Make sure to book afternoon tea 24 hours in advance.
4 – 6 Augusta Street, Sheringham NR268LA
RELATED POST: Afternoon Tea in Norfolk – 15 of the Best Places
Camellia Cottage
Brunch | Lunch | Afternoon Tea
A licenced cafe with a modern feel, Camellia Cottage is decorated with neon signs and contemporary furniture both inside and out, set in a traditional Sheringham flint cottage close to the sea front.
Their brunch menu really speaks to me, with all my favourites including fluffy American pancakes, with sides of berries and streaky bacon, for when I'm feeling decadent, and smashed avocado on sourdough, with various options, for when I'm feeling like I need to go on a diet!
The salads are excellent – generous, interesting and beautifully dressed.
With lots of inventively flavoured shakes and scrumptious homemade cakes, make sure you visit when you're in town.
1 Station Road, Sheringham NR26 8RE
RELATED POST: 30 of the Very Best Things To Do in Norfolk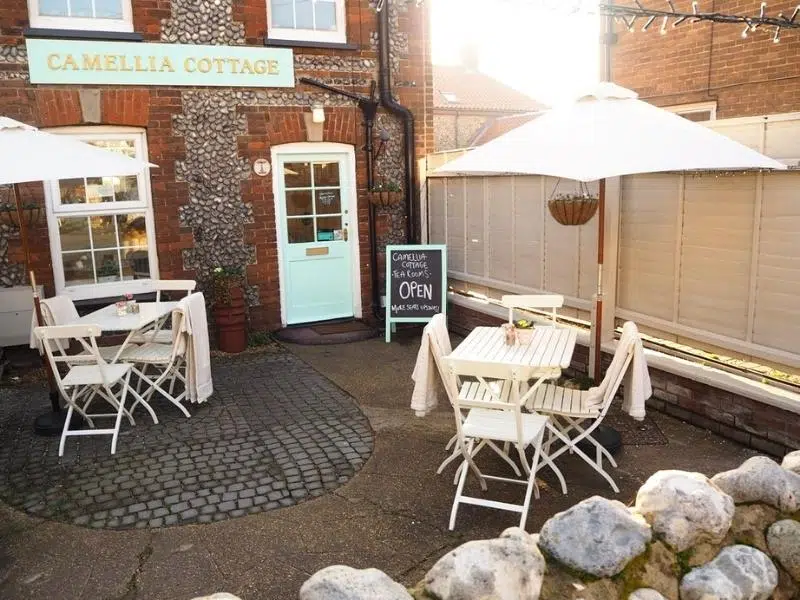 The Kitchen
Breakfast | Lunch | Tea, Coffee and Cake
The Kitchen is one of those rare cafes which serve fresh, good quality food and drink at a reasonable price in friendly and comfortable surroundings. With plenty of outside seating for summer days, and a welcome for your dog, this is a real Sheringham gem.
For me, The Kitchen does the best cooked breakfast in Sheringham – nothing fancy, but all the well cooked breakfast staples you'd expect. And they can poach an egg – a pretty rare thing in my experience!
A good selection of sandwiches, ploughmans, paninis and jacket potatoes is on offer for lunch, alongside a light bites menu which is served all day. Toasted teacake anyone?
17 Station Road, Sheringham NR26 8RF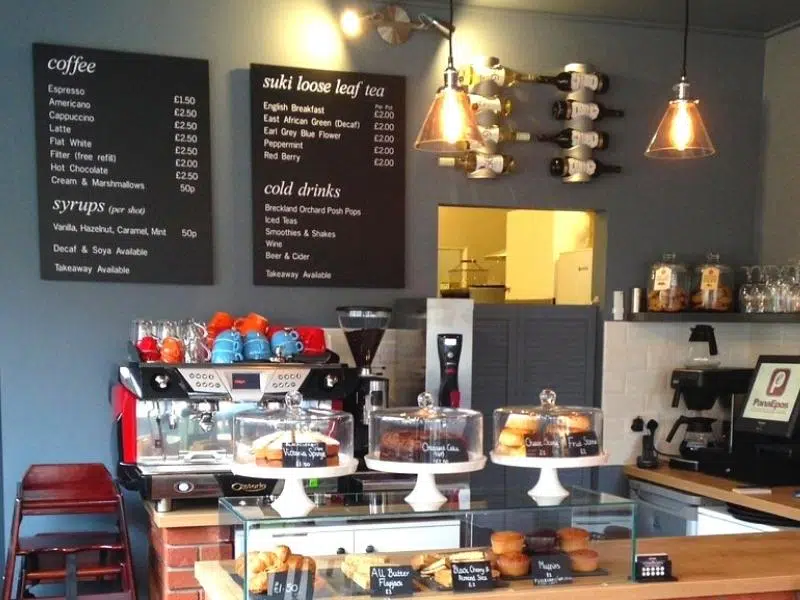 Breakfast | Lunch | Tea, Coffee and Cake
Established in 1992 in an old flint fisherman's cottage, the Whelk Coppers Tea Rooms are still run by the same family, and have been going strong ever since!
With possibly the best outside seating for lunch or an afternoon cuppa in Sheringham, the Whelk Coppers has some interesting history – the interior of the tea rooms is panelled in Indian teak from a Royal Navy frigate built in Calcutta in 1820, and the wrought iron gates were reputedly designed by Walt Disney, a friend of the original owner!
Whelk Coppers take pride in sourcing locally and use the bakery, butchers, greengrocers and fishmongers in town. Cakes and scones are all homemade and baked in house, and they even stock ice cream made down the road in Sheringham.
You'll find a small but well designed breakfast menu that includes delights such as homemade smoked beans on sourdough, which are my new favourite breakfast thing, American style pancakes and French toast. For lunch there's a good selection of sarnies and a few inspired options, like their falafel salad bowl and cumin spiced vegetable fritters.
25 The Driftway, Sheringham NR26 8LD
RELATED POST: Norfolk Coast – 8 Amazing Ways to Explore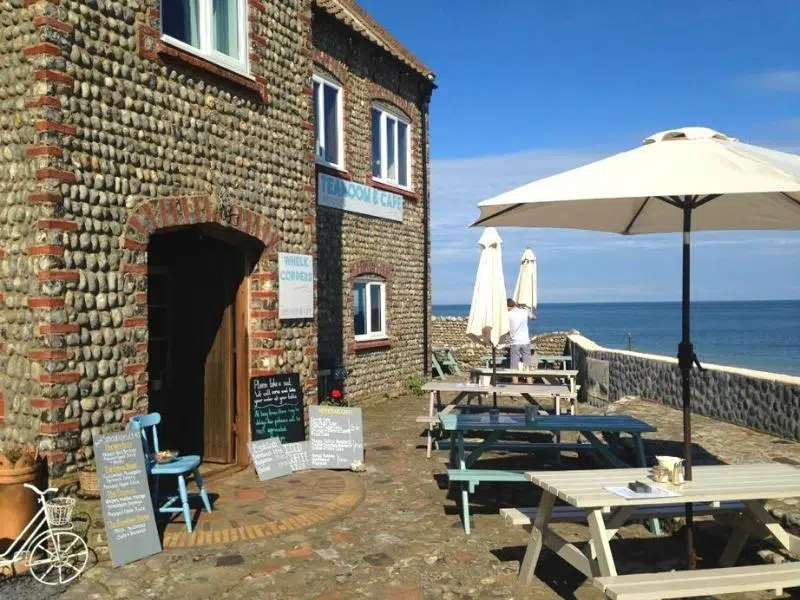 The Mulberry Tearoom
Breakfast | Lunch | Snacks and Cake
With a cozy and comfortable atmosphere, described as being a cross between a cafe and a pub, The Mulberry Tearoom offer food to match!
Mains include staples like ham, egg and chips (one of my all time favourites), and pie and mash. There is a large and well thought out vegetarian and vegan menu, and you can also get sandwiches and snacks too.
Menus are extensive, but this does nor detract from the quality of what is served – and it's all served with a smile.
44c Station Road, Sheringham NR26 8RG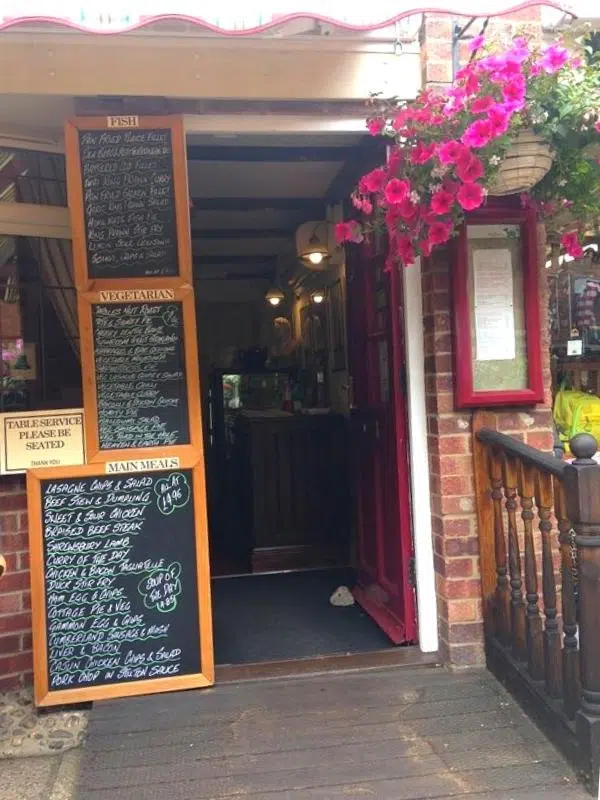 Have I missed your favourite place to eat in Sheringham? Leave a comment below so I can include it in this post!
Love it? Pin It!